Building a Path to Personal Success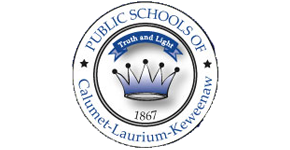 Where in Michigan can you find… School buses driving in snow eight months of the year? A district where high school athletes have gone on to professional success? A JROTC program over 100 years old? School buildings still heated with wood? A school system moving toward personalizing learning for all students? You will find all this and more at The Public Schools of Calumet, Laurium & Keweenaw (C-L-K).
The Public Schools of Calumet, Laurium & Keweenaw is the northernmost K-12 school district in Michigan and covers 419 square miles. Only one K-8 school, Grant Township, is further north in Michigan. Located on the Keweenaw Peninsula, C-L-K is one of 13 school districts in the Copper Country ISD which encompasses the counties of Baraga, Houghton, and Keweenaw. C-L-K's elementary, middle, and high school buildings are connected, a benefit for students and staff as the district often receives more than 300 inches of snow per year. C-L-K also has an early college program, alternative school, virtual school, and homeschool partnership program. 
The 1,600 students at C-L-K are predominantly white, mostly from Finnish or Scandinavian descent. Due to Calumet's remoteness and downturn in the mining industry, over half are economically disadvantaged. The staff at C-L-K do not allow this statistic to rule the achievement of their students though. According to the 2016-17 Michigan Department of Education Annual Education Report for C-L-K, the district's percent proficiency for all students in ELA, Mathematics, Science, and Social Studies is above the state's percent proficiency on the state assessment. Their graduation rate is 78% and nearly 41% of C-L-K graduates go to college within the first six months of graduation. Whether it is average class sizes of 22 or sisu (or a combination of both), C-L-K's focus is on student success and not on their disadvantages.
Chris Davidson became the superintendent of the Public Schools of Calumet, Laurium & Keweenaw in January 2018. While new to this position, Chris is very familiar with C-L-K. Raised in the lower peninsula of Michigan, Chris fell in love with the Upper Peninsula (UP) while working on his Bachelor's degree at Michigan Technological University in Houghton. He left the UP to teach at Oxford High School and complete his Master's degree in Educational Leadership and Administration from Central Michigan University. Returning to the UP, he taught at C-L-K's Horizons Alternative High School for a year before serving as its principal for six years. Chris left the district for a year to serve as superintendent, K-12 principal, and athletic director for Chassell Township Schools, a small district about 30 miles south of Calumet. The Calumet High School principal position became available the following year and Chris returned to C-L-K. After two-and-a-half-years as the high school principal, Chris took the superintendency role upon Darryl Pierce's retirement.
C-L-K's main campus is at the edge of the downtown district and is a combination of past and present. In addition to the schools, the property contains the public-school library, many old mining buildings that are used for bus garages and storage, and is adjacent to the Keweenaw National Historical Park headquarters. The schools have an automated biomass boiler heating system which burns wood chips produced from an area sawmill and occupancy sensor (automatic) lighting.
The Calumet Public-School Library is housed in the high school building on campus. When the Calumet Hecla Mining Company, establisher of the public library, left the area in the 1940s, it was combined with the school library. Visitors who come from urban districts may be surprised at the lack of security in the buildings, which Superintendent Chris Davidson is well aware of. "We have some unique challenges when remodeling and updating, including security of the facilities," he explained. "The public needs access to the library and partnership programs, and these old buildings make renovations difficult." Security upgrades will be addressed with funds from the recently passed bond.
A partnership program that needs public access to the high school is with Finlandia University, a liberal arts college in Hancock, 12 miles south of Calumet. For the next two years, C-L-K is connecting students with their Finnish culture through woodworking. During the 2018-19 school year, Finlandia University hired a Finnish boat building expert, Alex Comb from Minnesota, to build a 14' Finnish fishing rowboat with the C-L-K woodshop classes. Students are learning how to use mostly hand tools which are different from the machines they learn to use in woodworking class. They have hand-planed planking and made scarf joints to join boards which they then hand-planed again. Three classes worked on getting the boards to the right thickness to be installed on the boat. Alex continues to work on the boat when students are not in class, at which time, the public can come in to see the progress and talk with the expert. The boat will be raffled as a fundraiser when complete. Next year, the partnership will be building a traditional Finnish log sauna.
The district also partners with Birdseye Creations of Mohawk. The company makes birdseye plaques which they supply to the school for all their awards at no cost. In exchange, C-L-K uses their laser engraver to engrave all the company's plaques. Students at the high school gain real-life experience making these plaques and the partnership generates cost savings for both the district and the company.
When the district began using iPads in 2011, they were one of the first districts in the state to go 1:1. Since then, various grades have switched to different devices as technology has improved. Beginning in the 2019-20 school year, Pre-K through 1st grade will continue to use iPads, 2nd-8th grades will use Chromebooks, and the entire high school will have Windows laptops. Devices alone are not enough to personalize learning for every student though. The district has been using Schoology as their LMS for three years. Teachers have created their courses so students can access content any time from anywhere. In the 2018-19 school year, C-L-K also began using Google Suite with their students which seamlessly integrates with Schoology so students never have to leave the LMS.
This highlight features some of the innovative options C-L-K is providing to students as they build their own path to personal success.
High School
With its many windows breaking up the brick facade, Calumet High School is reminiscent of schools in bygone eras. Four hundred students occupy the four floors of the building. They blend the past and present as seen by working on their digital devices in the historic study hall. Many traditional classes are taught in a hands-on project-based format, and students can choose to take online, early college, CTE, or Junior ROTC courses. Outside of the classroom, students may participate in a variety of clubs, organizations, and athletic opportunities. The district maintains wireless wifi hotspots that can be placed on buses so students can keep up on their work during the long bus rides to athletic events.
The room that most resonates with the past is the study hall. The massive room shares the second floor with a ceiling reaching beyond all others and splitting the third floor into two separate wings. Over the years and many updates, the room always remained the study hall. The latest renovation brought the room back to its original colors and design along with the wooden desks and chairs that are bolted to the floor. CLK uses the study hall for SAT testing, school presentations, and as its original intent, a study hall.
All the tools are in place to personalize learning for students at the high school. Individual devices, a learning management system with teacher-developed content, and multiple options for students to choose from. Career tech programs, project-based learning courses, JROTC, and a variety of club and athletic options give students some choice in their learning. Teachers are moving toward more project-based learning and flipped classrooms. "Advanced students appreciate being able to watch science lectures at 1.5-2x speed as much as other students are thankful they can view the same videos numerous times," said Chris Davidson. The administration and staff continue to forge C-L-K's path toward more personalization for students.
Even in economic downturns, C-L-K has kept their Industrial Arts programs. Bond funding will be used to remodel parts of the basement to house a Fabrication Lab. These programs are some of the leaders in personalizing education for C-L-K students. The Industrial Arts programs have updated drafting/CAD equipment, a new Haas CNC Mill, a CNC lathe, 3D printers, laser engraver, and more. Students learn how to use the machines and then work on individual projects to show what they learned. The remodel will include updating the drafting/CAD room into the Fabrication Lab with clean operating equipment that is more in line with modern manufacturing. In the new lab, students will learn the different ways to use the CNC mill and how to fix it. The Fabrication Lab will be accessible for any teacher/class in the district to use so their students can go from idea/concept to prototyping and testing. The Robotics Team and CAD class have been working together to machine parts for the Robotics Team robot because the time to ship parts and the cost of getting the parts to Calumet are prohibitive to their progress. Some student projects (welding, woodworking, and machining) from the Industrial Arts programs are entered in SkillsUSA or MITES competitions and have won many awards.
Welding is one of the Industrial Technology programs in the Manufacturing cluster of electives at Calumet High School. Last year, as part of the CTE requirement, to expose more non-traditional students to career pathways, 16 high school girls spent half a day participating in a "Women in Welding Day." Students started the day watching a video about women who have made careers in the metal fabrication industry (many of whom own their own metal artwork studios) and then worked hands-on to create and weld Christmas ornaments out of steel. Because of the interest generated, the district offered a pilot one-semester class called Artistic Welding and Metal Working. The class was open to all high school students and offered an artistic, as opposed to an industrial, approach to metalworking and welding. For the first semester, 15 young women learned basic metalworking and welding skills in the class with an additional 15 scheduled for the second semester. "An introductory welding course that is made up of predominantly women is less intimidating," said Eric Rundman, C-L-K's welding instructor. "The girls bring a new dimension to the program." The students spend a week designing their project, followed by cutting the parts, welding, and developing procedure sheets on what they did.
Corey Soumis is also a certified Industrial Technology teacher at Calumet and is the lead instructor for the Artistic Welding and Metal Working class. After attending a week-long course on using the Lincoln Torchmate CNC Plasma cutting system in Cleveland, OH, Corey is passing this knowledge down to his students and integrating the latest design technology into the course. "The girls have learned the computer part of the plasma cutter quickly," shared Corey, adding, "Which is a difficult component to use." This equipment brings modern manufacturing to the district and curriculum.
The North Star Battalion, Calumet's Junior ROTC (JROTC) program is one of the oldest in the nation, founded in 1917. Not to be confused with a military recruitment program, JROTC is a character and leadership development program. Their mission is to motivate young people to become better citizens. Under the direction of two instructors, who are retired Army Majors, students serve their community as they learn about themselves.
One-quarter of C-L-K high school students participate in the JROTC program. "A cross-section of our students join JROTC. For some, there is no other program or club in the district that meets their interests," explained Chris Davidson. This program is both curricular and extra-curricular. Students enroll in elective classes that expose them to physical challenges like rappelling and rock climbing with a curriculum that builds the capacity for the students to become better citizens and leaders. They can also engage in activities outside of school. Cadets, as they are known, perform at local events, serve as 6th-grade camp mentors, run events to raise money for young mothers and suicide prevention, and organize a yearly Veteran's Day program and dinner.
Of the 90-100 students per year, about 33% of the cadets stay all four years, moving up the ranks and taking on leadership roles. The JROTC program uses all rooms on their half of the third floor and consists of classrooms, a student officers' office, and instructors' office. Students are required to maintain their uniforms and many compete in events like drill team competitions and JLAB (JROTC Leadership & Academic Bowl) where they have received many awards.
For five years, Calumet has had an agreement with Gogebic Community College (GCC) for their early college program. Calumet teachers are hired by GCC and teach at the high school. Students in the C-L-K-GCC Early College program complete their first two years on campus at the high school. They are given more flexibility during their junior and senior years with M/W/F or T/TH classes. When they don't have class, they are not required to come to campus, just like college. In their 5th year, students have the option to take Gogebic Community College courses at the Ironwood or Houghton campuses. About half (50-60) of the students in each grade enroll in the early college program every year. Students can earn any associates degree offered by GCC with the most popular being nursing, engineering (GCC works with MTU), and welding. The district does not offer AP courses as there is more interest in early college than AP.
Horizons Alternative Education School
Horizons Alternative High School, located in Mohawk, focuses on the individual student and their personalized learning. The program began in 2005 in a former K-5 building where the program is still housed. There are four classrooms, a computer room, weight room, gymnasium that also serves as the cafeteria, student workroom, student relaxation room, and food pantry. While the 2018-19 school year has 66 students, the program averages 50-60 students per year, keeping class sizes to about 15. Students receive a Calumet diploma and have the same graduation requirements as the high school. Horizons was the first official Green School in the UP in 2008-2009.
The program is led by Principal Joel Asiala, a two-and-a-half-year veteran in the district who is very passionate about his students and the school. There are four core classroom teachers, a resource room teacher, and an Odysseyware (online program) teacher. In addition to staff, a volunteer counselor comes three times a week and a volunteer "Grandma" works with 1-2 students each year, going to class with them and helping them with notes and assignments. To round out the family atmosphere at the school, Tucker, Joel's Goldendoodle and certified therapy dog, is there to comfort students when they need it. The staff takes pride in working with the students who attend Horizons. Most of the ideas for improvement come from this close-knit staff. The teachers, along with the secretary, a Horizons' graduate herself, work very closely with the students to make sure they make it to school every day. "My staff is unbelievable and this is why Horizons continues to grow from year to year," remarked Joel. 
Every student has access to a computer to use in the building and can take one home with permission. Like at the high school, classroom teachers use Schoology to create and house their course content. The goal is to flip all classrooms where students will spend a day with the teacher, getting all their work done in the building. Joel would like to see 100% of homework completed which is not happening when students are required to complete it at home.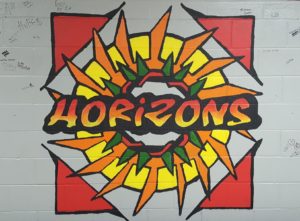 When students arrive by bus each morning, teachers meet them at the door with a smile and fist bump. "Our teachers know first thing if a student is having a bad day or what kind of mood they are in," Joel explained. "Kids can't hide." During the first 15 minutes of every day, students meet with their mentors to go over goals for their day. In addition to class-related goals, 11th graders talk with their mentors on test prep and life skills while 12th graders discuss issues related to their senior projects.
As a school that stresses a family atmosphere, students may bring their babies with them to class. Currently, three students have children. Administration and staff would prefer that the young women attend class rather than quit school altogether. Online courses also help to solve the attendance issue as the girls can work on their work at home when they are unable to make it in.
Student ownership of the facility and learning are very present in the building. Many of the students are learning responsibilities here. One example of ownership happens at the beginning of each year. Students work together to create a yearly mural that represents what Horizons means to them. The mural is painted on one of the walls and remains there for five years. Every year students also give back to the community through community events. Horizons students plan a yearly Halloween carnival. They make games and work the stations in the gym for 30-50 local kids on Halloween. Money raised from the event is used to plan more community events.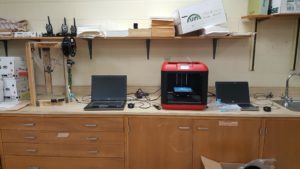 The school is in the first year of providing students a workroom as one would see in the workplace. The room has two 3D printers, a copier, a 36" printer, and work tables. It is "owned" by the students and not used by staff. This ownership is demonstrated by the cleanliness of the room, printers not out of paper, filament always in the 3D printers, and machines turned off when not in use. Students learn how to use the equipment on their own and are growing in their learning faster than when the school tried to offer a class in the room. Because students are in charge or their learning, true personalized learning is occurring. Students come to the room to work on school-related projects or personal things. They have figured out how to make phone cases, fidget spinners, pieces for their cars, figurines, and more on the 3D printers. The room is not only beneficial for learning but is a place for students to come to calm down and work through issues going on in their lives. Another room is being created where students can go when they need to get out of the classroom. They can work on classwork or relax by playing pool, reading books (students chose to move the library there), or listening to music.
A local organization called 31 Backpacks used to provide backpacks filled with food for students to take home on weekends. Now the organization created a food pantry in a small room across from the office instead of providing backpacks. While 31 Backpacks fills the pantry, the room is not monitored by anyone from the organization or the Horizons staff. "Students have really taken ownership of this room," beamed Joel. "They take just what they need so that there is enough for everyone." Items in the room include local fresh food, canned goods, boxed food, and frozen items like hamburger and other meats as well as personal items and even clothing. A volunteer runs a cooking class every other Friday using the fresh foods and other items that are donated.
Upper Peninsula Virtual Academy

Another option for students to personalize their learning is the Upper Peninsula Virtual Academy (UPVA), C-L-K's virtual school. UPVA is a partnership with Gladstone Area Schools and meets the needs of students from Michigan's Upper Peninsula who cannot or do not want to come into the traditional school to learn. As student learning preferences differ, the school uses a variety of online course content including Little Lincoln, Plato, Odysseyware, EdOptions Academy, and Michigan Virtual. In 2018-19, 40 students enrolled through Gladstone and 55 through C-L-K. Students can choose to take core or elective courses and enroll full- or part-time. Every course has a content-certified expert teacher and each student is assigned a mentor who monitors their progress and grades. Regular communication is key to the success of the UPVA students. All UPVA staff, not just the mentors, regularly communicate with students. Using many forms of communication to inspire, nurture, motivate, and empower the students is how UPVA faculty and staff build their successful relationships with them.
Keweenaw Family Discovery Center
The Keweenaw Family Discovery Center (KFDC) is a learning option for families who want to be more involved in their child's education. Parents remain at the facility or community location with their child and are responsible for their individual needs. Enrollment in KFDC's fifth year of operation is 162 students mostly from UPVA and homeschooled families in Houghton, Keweenaw, and Baraga Counties. Approximately 100-110 attend on a daily basis. KFDC classes are open to all C-L-K students K-12. Class sizes range from 2-14 students with an average of five students per class. Certified teachers oversee all classes which are taught by community experts. The curriculum is a blend of virtual and hands-on activities, with the virtual component being housed in Schoology like the rest of the district.
Hands-on, non-core courses are offered M/W and T/TH in the centrally located facility and in the community, with about 50% of the courses taking place in the facility. The facility includes space for creative movement like a sewing space and maker space as well as a very popular cooking class that uses the produce from the garden in the yard. Families can hang out in the library where a large contribution of books from Finlandia University is housed. Community courses include Rosza Performances at Michigan Technological University, music electives, physical education electives like skiing and ice skating, art electives, and POD classes where curriculum packets developed by the school are sent home. Field trips have also been taken to Finlandia University Gallery (Art Center), MTU technology labs, and local credit unions.
For the second year, unique elective courses like nature and survival courses and outdoor sportsmanship (DNR-type course) are offered in the school's yurt. The yurt has an insulated floor, a vented greenhouse heater, programmable propane heater, fireplace, compostable toilet (in progress), couch, one small desk, a few non-traditional chairs, and yoga balls. Courses are nature focused and the yurt is intentionally set up for Circular Teaching. Classes start with an inspirational hook facing the east to represent the beginning of the day. As students begin to work, they move to the south part of the room, representing the hottest part of the day. This is where they do their hard work researching in the yurt's library or finishing projects. Students celebrate the completion of their tasks and show off their accomplishments in the west section of the yurt. Upon finishing the day, students reflect on a job well done around the fireplace, with a relaxing beverage like tea, on the north side before being sent home. Music and art are integrated into the project-based courses with the teachers coming in on opposite weeks. The projects are student-driven and relevant to their lives. For example, students are building a better bridge to get over a ditch to reach the yurt and will be designing a sign to explain the yurt to people who drive by. "The goal is to bring in as much learning as possible," explained Brian Rajdl, KFDC teacher who spent countless hours putting up the yurt. "We are also flexible throughout the day to take advantage of learning opportunities that arise."  Some of those opportunities occur on the many trails that surround the yurt.
According to Susan Nielsen, Director of KFDC, "We are fine-tuning our processes and procedures." Scheduling begins with a spring survey to measure course interest with enrollment occurring in July and community experts designing curriculum in July/August. Course offerings are further defined during the first two weeks of class which is the drop/add period. Staffing also continues to be evaluated. "Many of the community experts are often involved parents who have the flexibility to teach during the day and are passionate about a place for their kids to learn," shared Susan. KFDC provides professional development for these experts and opportunities to work with the certified teachers on course development. In addition to staff, the Center is looking to create partnerships with MTU's and Finlandia University's student organizations as an opportunity for their students to earn community service hours.
The Public Schools of Calumet, Laurium & Keweenaw welcomes students where they are by providing options and opportunities for all students who knock on their door. The district respects their heritage and history while providing updated technology and programs to further their students' learning. Through a close-knit family atmosphere and a commitment to learning, C-L-K is building a path for all students to be successful in their learning.
Author: Lisa Sitkins, EdTech Consultant, December 2018