Hamilton Community Schools
Each Will Thrive
Hamilton Community Schools (HCS) offers a variety of learning options to over 2,800 pre-kindergarten through early college students in the Ottawa Area Intermediate School District. In addition to the programs delivered in the preschool, four elementary schools, and middle and high schools, the district also runs a virtual school and blended learning program. Hamilton personalizes learning for every child through multiple programs and delivery options so each will thrive in whatever path they take. 
Hamilton Community Schools Vision
Equipped with superior academic, career, and life management skills, each Hamilton graduate has the knowledge and motivation to thrive. 
The strategic plan for Hamilton Community Schools guides all the work in the district. Their vision, mission, and district goals were developed by the Board of Education to align with the strategic plan. 'Each' and 'thrive' are two intentional keywords in Hamilton Community Schools' vision. The district partners with the community to provide each student with individualized instruction which allows them to explore their interests, link their learning to the real world, and build the academic, social, and career skills they need to be lifelong learners. 
Dr. Brad Lusk began his role as district superintendent in 2022. He holds a Bachelor's degree from the University of Michigan, Masters and Specialist degrees from Grand Valley State University, and a Doctorate from Eastern Michigan University. Prior to coming to Hamilton, Brad held teaching and administrative roles at Grandville High School and was principal at Fowlerville High School for 10 years. As he leads this innovative district, his focus is on sustainability and community so that all will thrive long into the future.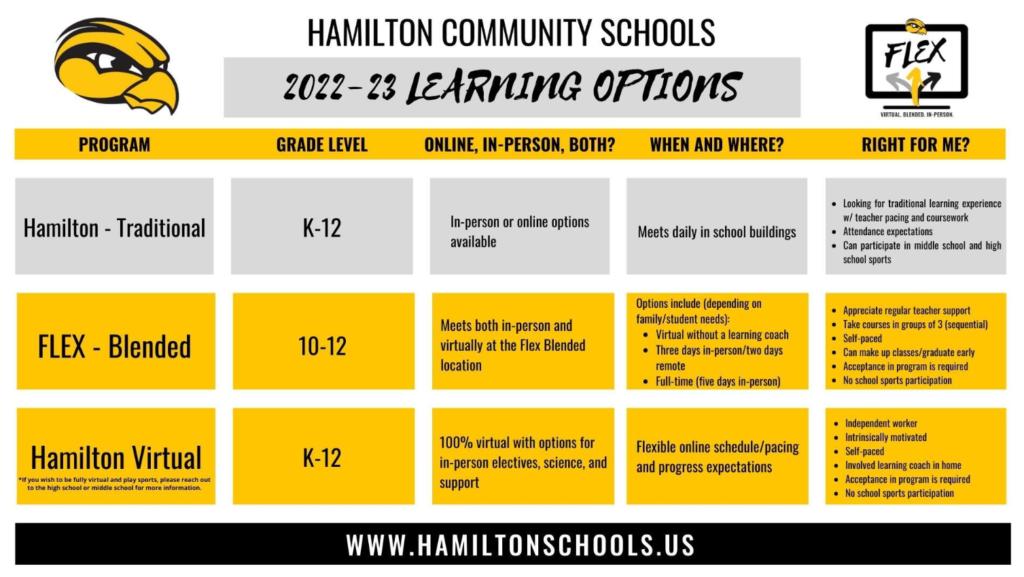 To provide a personalized learning experience, students have access to technology tools and options for learning. Every student in the district has a personal device that, depending on their age, they can take home to complete work and communicate with their teachers. While all the learning options available to students use the district's learning management system (LMS), Canvas, as well as other digital curricula and resources, they are not a replacement for teachers. HCS teachers facilitate and assist learning rather than teach in a one-size-fits-all environment. The technology allows students to personalize their learning and provides teachers with data and time to work with students on their individual needs.
Students in Hamilton Schools can choose from in-person, online, or a combination of both to meet their needs. Hamilton-Traditional meets daily in the school buildings. Personalization in this option allows students to go deeper into topics as the teacher leads the pace through the units. FLEX-Blended offers students the option to attend fully virtual, three days in person and two virtual, or every day in person. For students who want to work independently through a full schedule of online classes, Hamilton Virtual is available with optional in-person electives. Project-based learning is embedded into all learning options. Counselors and administrators help students and families choose the format that is right for them. 
Standards and proficiency scales are used throughout the district and are shared with new teachers, students, and parents. To report on standards, the district has been using standards-based grading (SBG) since the 2014-15 school year. SBG focuses on a student's understanding of a standard or topic rather than a letter grade which can include attendance or extra credit. Student progress in each standard is recorded in PowerSchool using a scale of 1-4 (see scale below). A conversion tool translates the learning score to a grade for middle and high school transcripts. 
Hamilton Community Schools Standards Based Scores
4 – Exceeds Standard
3 – Meets Standard
2 – Progressing Toward Standard
1- Work Needed
Supporting Each Child
Through Hamilton Community Schools' multi-tiered systems of support (MTSS), K-6 students receive the level of reading and math instruction they need. As in all MTSS models, every student receives the same universal support in Tier 1. After screening, some HCS students move into Tier 2 where they work with an interventionist or classroom teacher in groups of up to eight. They may receive reteaching, additional strategies or instruction time, and opportunities to practice and get feedback. Those needing more individualized support, meet with a certified teacher more frequently in even smaller groups. 
Rather than pulling Tier 2 students out of class for interventions, all K-6 students move to an assigned group during MTSS time. Based on classroom data and assessments, students receive either intervention support or enrichment opportunities for 30 minutes each day. While student progress is consistently being monitored, groups are reassigned three times per year when universal screening is conducted. In grades K-4, students move in and out of groups more often since they can exit a group if they meet their goals three times in a row. K-6 students who meet benchmarks as indicated by the screener participate in practice and enrichment activities led by a teacher or paraprofessional during MTSS time. 
At the secondary level, 7th- and 8th-grade students receive reading and math support or enrichment during their scheduled advisory period. Hamilton High School developed two classes, Hawkeye Prep for 9th graders and Hawkeye Success for 10th graders, to help academically struggling students who do not qualify for special education or 504 services. During this elective hour, students learn soft skills, organization, note-taking and study skills, and reading skills as well as have time to work on their classes with teacher support. Two days a week the 30 students and three teachers work together in one space. On the other three days, students spend time working with a core teacher, moving from one to another depending on their current needs. To determine who qualifies for the intervention class, staff look at PSAT scores, iReady reading scores, teacher and parent recommendations, and the number of failures in 9th grade (for Hawkeye Success). When this course began in the fall of 2022, the goal was to help students become independent learners and transition out of the class after one trimester. Some students have asked to give up another elective so they can stay in the course because they realize how much it helps them learn and grow. In addition to this self-awareness and ownership of their learning, the initial academic results of the intervention are showing success in meeting the district goals.  
Intentional Change for Students to Thrive
In 2018, Hamilton Community Schools began an intentional journey to carry out its vision, mission, and goals in its classrooms. Working with Modern Teacher, they created organizational pieces to guide their work including a Theory of Action, an Instructional Model, and a Thrive Common Language Glossary. All staff completed a module on rigor to help them develop lessons that challenge students' thinking and instill a desire to learn. They also had the opportunity to work through personalized, self-paced professional development tasks with a Modern Teacher coach.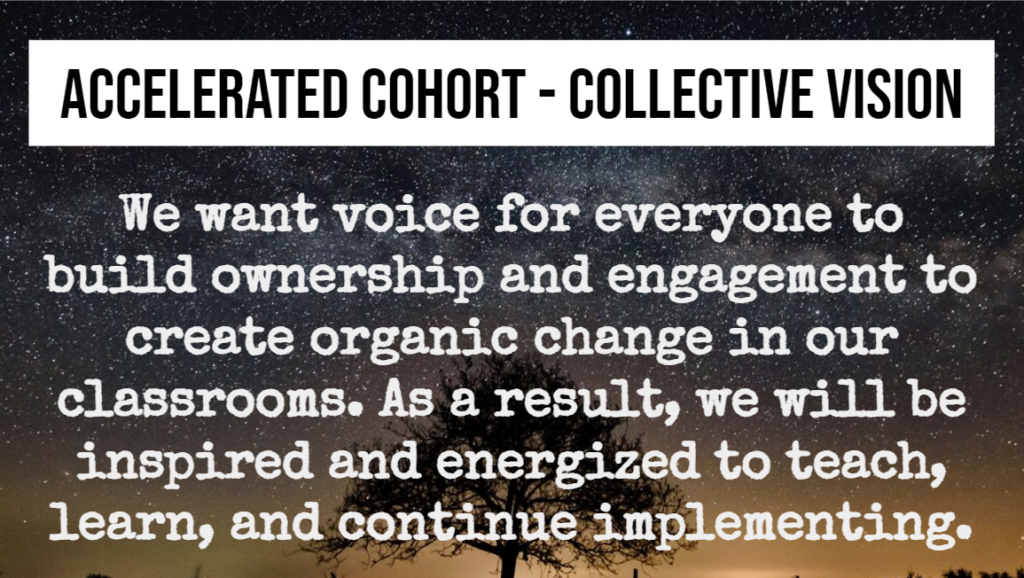 When expectations for classroom change didn't materialize through these efforts, Team Apollo, a cohort of 11 teachers was assembled. Teachers were selected from all buildings and core subjects and included a special education teacher. This small coalition was willing to be purposeful about implementing and evaluating a new student-centered model for teaching and learning. In this mindset shift, teachers are facilitators, students own their learning and have voice and choice, learning is transparent, and technology is a tool to assist in the process. 
 During the 2021-22 school year, the cohort met during PD days to learn, prepare, and discuss implementation successes and challenges. The administrators designed a demonstration classroom for coaching meetings and collaboration time. Elements the teachers were learning, such as standards of practice (SOPs), flexible seating, binders for modules, learning walls, and data binders, were embedded into the room. The cohort also did a book study on the Innovator's Mindset. Cohort team members agreed to catch up on district PD work on their own time. 
In HCS' student-centered learning model, students work within their grade level and standard, moving deeper into the content rather than ahead of the teacher. Teachers create proficiency scales that are embedded into learning plans that students use. Learning walls and resources are available for students to work independently. With their students, teachers create a classroom vision and code of conduct, unpack the standards, and develop SOPs. Mini-lessons are given every day, and voice and choice occur during independent practice. While teachers scaffold the learning, students self-assess and discuss their learning with their teachers. Students also track their progress and evidence of learning in data notebooks or portfolios. 
Testimonials from teachers reinforce the cohort's vision. They share that although switching mindsets takes time, they love the transformation they see happening in their classrooms. The extra work involved in creating a student-centered classroom pays off as they slowly see their students take ownership of their learning. They also believe the coaching has helped them to grow alongside their students.
A purpose of these changes is to help students be more independent so teachers can work with struggling students.
~Apollo Cohort Teacher Keith Sheridan, High School Math
Student engagement and learning are apparent in the classrooms. Learners can be observed using the learning wall to check their work instead of going to the teacher. More time is spent on task. When asked why they are more engaged, students respond that "they get to do what they want," within parameters set by the teacher. Academic celebrations are held at the end of reading and writing units where students share their learning with people other than their teachers. One 4th-grade student explained what he learned as he shared his evidence of learning (i.e., what he completed or created) that he stores in his data notebook.
The vision of the cohort is emerging. As teachers outside the cohort see the learning transpire in the cohort classrooms, they are asking questions and beginning to make incremental changes in their own rooms. Teachers outside the cohort are creating learning walls in their rooms, using a cohort teacher's learning plans to provide choice in their classroom, or adopting data notebooks for students to demonstrate their learning. 
While the cohort was designed to accelerate change in the team's classrooms, other programs and initiatives are also taking place in the district's buildings to personalize learning.
Thriving in the Traditional Programs
The Hawkeye Preschool program is a play-based, exploratory comprehensive preschool that is GSRP five-star rated. Located at Sandyview Elementary, students have the opportunity to learn through observing, experimenting, and asking questions while experiencing nature. The program structure includes many opportunities for children to be outdoors where they learn new skills through exploration and discovery. Research shows additional benefits to learning outdoors include increased health and whole child well-being, environmental awareness, and a sense of place. 
Students in grades K-4 spend time in nature at the Outdoor Discovery Center (ODC) and outside their school buildings. Hamilton's elementary staff find creative ways to engage students in outdoor activities that tie to the curriculum. For example, after Sandyview Elementary finished reading Charlotte's Web for their One School, One Book program, children could be found searching for a hidden Wilbur during recess in the wooded area behind the school. In addition to ODC field trips, elementary students participate in career-related field trips that are tied to their curriculum. 
All students in 8th grade extend their classroom learning with a semester in STREAM School. STREAM School works with partners in the greater Holland area to make learning relevant. These unforgettable experiences keep students engaged in English and Science standards through hands-on projects tied to Lake Michigan, dunes, wetlands, and the ODC property. They also connect students to the Agriscience and Natural Resources pathway. 
Blended learning enhances the learning experience. We are living in a digital world and students need the combination of intentional practices with and without technology.
~Deanna Malloch, Seventh-Grade English Teacher
BLENDED LEARNING
Hamilton teachers devoted a lot of time and resources to blending learning in their classrooms well before COVID. They were trained on project-based best practices, coached others on how to use the model, and built curriculum to support it. Teachers throughout the district created resources for students to work independently and dig deeper into the content. This gave teachers time to work with small groups of students at different levels. COVID accelerated this strong foundation as teachers blended more and more of their content.

In the fall of 2020, HCS transitioned from using Google Classroom as its learning management system to Canvas. Deanna Malloch, seventh-grade English teacher, is intentional about the videos, handouts, resources, extension activities, homework, discussion boards, and assessments she enters into Canvas. Some of this content is teacher developed and some are purchased, like The Teacher's College Reading and Writing Project videos (the K-8 reading and writing curriculum). Online learning games such as Kahoot, Quizlet, Quizizz, GimKit, Khan Academy, etc. are also part of her blended learning environment. 
All items added to the LMS have a purpose. For example, students in Deanna's English class view uploaded curated videos on book club authors and then post their takeaways on the class Discussion Board. Students can access the content in Canvas when they are absent or need to review information. Canvas also allows teachers to track the time students spend in each class, a feature that was helpful when students were working from home during the pandemic. 
Deanna has been implementing blended learning since 2016. When asked what lessons she's learned, she shared, "Less is sometimes more! You don't want to overcomplicate things because the learning and the content should still be the focus." 
WORK BASED LEARNING
Hamilton Community Schools is intentionally using Work Based Learning (WBL) as a way to personalize learning for all students. Through a variety of activities and options, students in grades 5-10 become aware of, explore, prepare, and train for careers. Since 2017, the district has been building a comprehensive WBL program to encourage students to explore various career paths. The program culminates in a WBL requirement for graduation. 
Learners in grades 5-12 have access to an interactive work based learning document. When a required or optional experience or activity is clicked, another document opens with a description, how to sign up, what completion looks like, how their attendance is verified, and additional resources. Experiences and activities are offered during and outside of the school day. Some are free while others have fees. In some cases, students may need their own transportation and/or participate on their own like a volunteer experience. A key on the work based learning document helps students choose their experiences based on their interests. 
Grades 5-9 engage in required activities that help them become aware of careers and in some cases explore or prepare for them. Each grade level focuses on a different high-wage, high-demand pathway so that students have background knowledge prior to preparing and training for a career in 10th-12th grades.
Fifth Grade: Construction
Sixth Grade: Business and Information Technology (IT)
Seventh Grade: Manufacturing
Eighth Grade: Agriculture and Natural Resources Management
Ninth Grade: Healthcare
Activities in these pathways include Skills4Success and DIG IN! Days, work place tours and interactions with career professionals, real-world problem-solving for local businesses, job shadowing, and Prep4Success workshops. Students in grades 7-12 update their Educational Development Plan (EDP) every year with the information they learned about themselves and the career information they gathered throughout the year. 
Ninth through twelfth-grade students broaden their learning around careers and opportunities and start connecting to their interests through a variety of suggested activities. If appropriate paperwork is submitted, students are given a school-related absence to attend the experience during the school day. Activities include Careerline Tech Center and college events, cultural trips with classes, meetings with military or college recruiters, college visits, workplace tours, job shadowing, interviews, volunteer experiences, and military or agricultural exploration. To graduate from Hamilton Community Schools, students must complete two preparation activities and one training activity. 
One of the work based training activities is the Future PREP'd Academy program. Through this afterschool program, 9th-12th grade students collaborate with other Ottawa Area high school students to provide innovative solutions to challenges faced by local businesses. Ashley Meyer, Hamilton's Work Based Learning/Experiential Learning Coordinator, is also a Future PREP'd educator in the program. Other preparation and training activities include a U.S. military preparation program, summer project-based learning programs, school store marketing courses, work experiences, and more. 
While high school students in traditional courses have options to personalize their learning through blended and work based offerings, they also have the option to enroll in an early college program. In conjunction with the OAISD and Muskegon Community College, Hamilton High School students are able to participate in the South Ottawa Early College Program. Through this program, they can earn their high school diploma and up to 62 credits or an Associate's Degree for free. Students are assigned a Student Advisor to help them develop the skills necessary for college success.
For students who want an alternative to the Hamilton-Traditional program offerings, other learning options are available. Hamilton Flex and Hamilton Virtual are self-paced programs with the expectation that students will complete the coursework within the school year. A teacher or learning coach are available for support. More about these programs are detailed below.
Hamilton Flex Blended
Hamiton's Pioneer Tech High School received a make-over in 2020 to become Hamilton Flex Blended Learning (HFBL). Over 13 years ago, the program was created to provide a flexible learning space so that students could go faster or catch up. In 2020, blended was added to the name as the program added flexibility in location for working on schoolwork as well as time and speed. About 70 students enroll in the program over the course of a year; the program is open to 11th-12th graders from the district and 10th-12th graders through schools of choice. Because HCS has a robust MTSS system (see Supporting Each Child section), in-district students go through Tier 1 and 2 supports before HFBL is an option for them. 
Over the years, HFBL has refined its expectations of students. Three overarching expectations are clearly defined throughout the workspace – Accountability, Responsibility, and Professionalism. Class time, break/lunch, and end of the day, as well as computer use and kitchen responsibilities have specific accountability, responsibility, and professionalism examples on signs in each location. 
There are a number of ways that the program offers a blended format. As mentioned earlier, students have flexibility in where they work on school. Students are required to come to campus on Mondays, Wednesdays, and Fridays, but many choose to also attend on the optional Tuesdays and Thursdays. Because courses are virtual, students are expected to keep up with their classes on the days they are not on campus. Students choosing to attend the OAISD Careerline Tech Center in the afternoon, attend Hamilton Flex in the morning.
The daily schedule is also blended. On required attendance days, students begin and end their day in homeroom, a section of student desks near a teacher's desk. Each day includes three blocks and two workshops. During the blocks, students work on three courses towards graduation as part of their semester courseload. Workshop time is used to catch up or move ahead in any of their classes. Students reflect on their week and make a plan to begin the next at the end of the day on Friday in their homerooms. Both morning and afternoon schedules on the optional choice learning days include two workshops followed by a homeroom check-in. 
Four full-time staff work with students in a large open area in the building. Joy Zomer, administrator and full-time teacher, was hired in 2010 to start Pioneer Tech and has been growing with the program ever since. Other full-time staff have been with HFBL for two to six years. As students work through their online course content, teachers provide daily support through one-on-one and small-group tutoring, mentoring, and encouragement. Virtual course content includes teacher-created lessons and materials in Canvas as well as vendor-purchased courses from Edmentum and Edgenuity. Content is delivered through audio and visual recordings in addition to text to offer more flexibility for student learning. Throughout the year, students are expected to complete six courses but work on three at a time (i.e., sequential learning).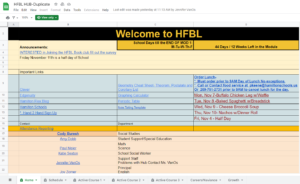 Jennifer VanOs, HFBL Administrative and Program Support, created a Google spreadsheet called The HUB. This tool provides a structure to help students focus on their coursework while also seeing how it fits into the "big" picture. In The HUB, students can view their overall schedule, track daily work/progress in each active course, record weekly reflections and career information from Naviance, and even order lunch which is delivered from Hamilton's food service department. Teachers and support staff frequently review students' HUB sheets to confirm completed work, follow up on tasks that need to be done, and use the information for one-on-one student growth conversations. 
Students like being able to earn credit for multiple courses when working on projects. Senior Adrianna S earned ELA and History credit for a Mexican folktale podcast she wrote and recorded. She also likes the additional in-person support she receives for her online courses. An 11th-grade student claims he comes in "just to take care of the plants on his desk." He earned the plants for completing certain goals and is motivated to acquire more. The reasons he likes HFBL is being able to focus on three courses instead of six and having more choice in when to complete his work. 
Hamilton Virtual School
K-12 students in the district and those who enroll in Hamilton through schools of choice have the option to take full-time or part-time virtual courses at Hamilton Virtual School (HVS). Full-time students take core and elective courses to meet all graduation requirements, receive a diploma, and may walk in the district's graduation ceremony. Part-time students take only non-core (i.e., non-essential or elective) courses such as physical education, music, art, and STEM. 
To enroll in the program, learners must have a learning coach at home to oversee their online education. Hamilton currently has 30 certified teachers and 10 mentors who facilitate student learning, helping them to make adequate progress and complete their courses. There is low teacher turnover at HVS. Many teachers have been with the program for over six years and say they like the variety of courses, flexibility, and mixed ages of students where the older students help the younger ones. The flexibility also allows teachers to teach in-person or online for other Hamilton programs.
Like all learning options in the district, HVS uses Canvas as its learning management system. Teachers create activity- or project-based content and assessments that align with the virtual subject matter. Other virtual courses are available through Edmentum, Michigan Virtual (including AP), and Calvert. Students can also dual enroll through more than eight colleges or take Careerline Tech Center classes at the Ottawa Area Intermediate School District. Optional applications to the virtual classes are taught in grade bands of K-1, 2-3, 4-5, and 6-12. 
Hamilton Virtual School uses five classrooms for optional hands-on applications, tutoring, and lab time. Hamilton Middle School students taking full-time virtual courses through HVS work in the middle school media center and attend optional elective course applications in person. Elective applications take place Tuesday through Thursday with a certified teacher in the portables behind the middle school, in the middle school, in the high school band room, and in the community. Tutoring for higher level math is available two hours per week and the lab is open five days a week for students to get help with their virtual courses.
As demonstrated through the learning options offered, Hamilton Community Schools understands that one learning environment does not benefit all students. Each option provides opportunities for students to personalize their learning through voice and choice. Qualified, professional educators guide students as they take ownership of their learning. Learning is demonstrated and transparent, and technology aids in the process. Each student will thrive in this student-centered learning environment.
Author: Lisa Sitkins, President and CEO, LSS Connections and Consulting LLC, January 2023