Berrien Springs Public Schools
Not Just a School of Choice…A District of Choices
We all want choices in life. Choices in the food we eat, the careers we choose, the cars we drive, the devices we use, and more. So why not have choices in our educational endeavors? Berrien Springs Public Schools (BSPS) is dedicated to providing students and families choices for the way they want to learn. Whether a student wants to learn in the building, online, online in the building, at home, in a center, at their own pace, on their own time, or in the community, Berrien Springs has it covered. BSPS goes beyond offering minimal options for learning and seeks ways to help students reach their full potential to be successful. No matter the program/path a student chooses, BSPS guarantees that all of them will graduate with the knowledge, skills, and dispositions as defined in their Profile of a Graduate.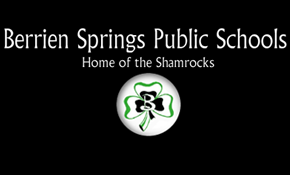 Berrien Springs is a district in the far southwest corner of Michigan that impacts over 4,000 students across the state with 2,000 on campus. Many of the over 1,400 students being educated in the virtual and partnership programs are partial FTE students meaning they do not take a full course load. Sixty-five to seventy percent are at-risk students. Fifty-one percent of students in all BSPS programs are white with the remaining coming from a very diverse group. Many students have English as their second language. Andrews University, whose campus population represents 92 countries, is in Berrien Springs. Children of Andrews University's faculty, staff, and students attend BSPS so the district spends a great deal of time teaching about living in a global community.
Involving all stakeholders (staff, students, community, and families) in the educational process is the mission of BSPS. There is a strong focus on students' needs and success at Berrien Springs. "Caring is more than a motto, it's part of our mission," Dave Eichberg, BSPS Superintendent, emphasizes. One example of focusing on students' needs came when the district realized that students enrolled in the band program significantly declined after middle school. After looking at the data, the district realized that Seventh-day Adventist students could not participate in Friday night marching band performances at the football games because they occurred after sunset. Rather than keeping the status quo and separating these students from the music program, the district moved the marching band performances from half-time to the beginning of the football games. Because of their heart for kids, the district has taken on many more difficult challenges.
The feel of Berrien Springs' campus is similar to a college campus where students are coming and going all day. This was unsettling for Dave Eichberg when he first came to the district as the high school principal. "I wasn't used to students not staying in the building and going from one room to another. Now I can't imagine them staying in the building all day." Students fluidly move from one program to another, taking courses at the public high school, the virtual academy, Project Lead The Way STEM building, CTE at other schools, and through the home school partnership. In order to have this movement around campus be successful, the district has high expectations for behavior. Because there are so many cultures represented at BSPS, it is imperative that they spend the first full week going over the district rules and modeling them in each space of the buildings so that students fully understand the expected behavior when in the learning environments.
Becoming a District of Choices
In 2006, Berrien Springs was in a similar position to many Michigan districts with declining enrollment, program cuts, and low achievement levels. But due to a supportive community, exceptional staff, and advancements in technology, BSPS has been able to successfully thrive. Offering choices to students and families have shown how a district can turn around. Because students and families have chosen Berrien Springs Public Schools, the district has been able to bring back an award-winning performing arts program and discover additional revenue streams that have generated new jobs over the last 12 years. The district also uses zero-based budgeting where each program starts with a budget of $0 every year. Programs must build budgets based on their needs for the coming year rather than on the dollars they received the year before. This has eliminated the unnecessary spending that happens with traditional budgeting and allows the district to evaluate each program on a yearly basis.
Eichberg credits the success of Berrien Springs' programs on the community who is accepting of choices in education whether it's traditional, virtual, home school, academies, alternative, etc.  "Our organization has been able to change and evolve to serve kids most effectively because of the support of our community. Our Board is also incredibly supportive and allows leaders in this district to lead," which has allowed Berrien to build a culture of learning and achieving. Leaders at BSPS view change as opportunities and spend their time, resources, and energy innovating, taking risks, and creatively problem-solving instead of seeing barriers and getting tied up in just fixing problems.
Staff is very critical to the success of Berrien Springs' programs. While other districts are cutting or not filling positions, something Berrien did until 2006, BSPS continues to add or keep positions to meet their students' needs. In addition to hiring the right people for the right positions, the district spends a significant amount on training. In addition to external conferences and training, teachers participate in personal learning communities (PLCs) and a Teachers Supporting Teachers (observing other teachers and providing feedback) is embedded into the instructional day. The district staff runs Teachers Supporting Teachers and most professional development (rather than outside experts). Just as choice is offered to students, plenty of choices are offered to teachers to learn and grow.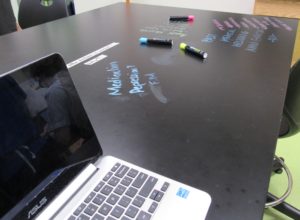 The role of computer technology has greatly impacted the programs at BSPS and has not replaced teachers as many in the education community fear. The Virtual Academy, Discovery Academy, Computer Science STEM program, and Bridge Academy Partnership rely on computers for student learning. In addition, the traditional public programs have embraced individual student devices as well as Google Classroom, which is used throughout the district. While every K-2 student uses an iPad, students in grades 3-12 are issued Chromebooks because of their versatility as both a laptop and a tablet. The purchase of devices comes from the general fund rather than a bond so the cost of devices is built into the budget. Before providing campus students with devices the district surveyed students/families to learn how many had internet access. When the results showed less than 100%, the district developed a system for families to apply for mifi cards/units so they could access the internet from home.
Achievement rates and graduation rates at Berrien Springs may not be the highest in the state, but there continues to be growth with many students growing more than one grade level each year. Superintendent Eichberg views this as a sign of success. Measuring student growth has evolved over the years as BSPS has realized new models and tools to collect student data points. For example, the district adopted standards-based grading for K-8 students five years ago. Berrien Springs is AdvancedEd Accredited district-wide. Of the 899 Michigan school districts, they are one of only 83 with this distinction and the only one in Berrien County. Many districts in the state are AdvancedEd Accredited but in just one or two buildings.
Continuing their commitment to providing a personalized education for students, BSPS began working with Modern Teacher in 2018-19. Modern Teacher's research-based methodology, the Digital Convergence Framework, is a path to help Berrien organize their work to build an infrastructure conducive to personalized learning at scale. While Berrien has many pieces in place (1:1, standards-based grading, professional development, community engagement) that are needed for personalization, this transition will focus the district's leadership, instructional models, curriculum, digital ecosystem, professional learning, and community in the same direction. Modern Teacher provides a mentor to help them through the process which is expected to continue for three to five years.

The following are highlights of the choices offered at Berrien Springs Public Schools. Every student is a BSPS student no matter the program or educational path students choose.
Berrien Springs Virtual Academy
Berrien Springs began their virtual academy in 2009 after the Michigan Department of Education made seat time waivers available for 6th-12th-grade students. The goal for Berrien Springs Virtual Academy students is to have a plan when they graduate, not just a diploma. In the Academy, students develop career and college ready skills through flexible learning options. To help kids develop those skills and a plan, 9th-10th-grade students focus on pre-CTE and exploration of career and college options. Deeper learning occurs in their chosen path in 11th and 12th grades.
Flexibility for students is created through a variety of venues for learning. Students can choose to complete their education via seated, virtual, career technical, and/or dual enrollment courses. By taking a variety of these courses together, students can complete their high school degree as early as three years or earn an associate's degree in five "high school" years. For a small school who cannot offer all the classes on campus that students are interested in or offer them when students can take them, these are pretty amazing options. The partnership between Berrien Springs Public High School, Berrien Springs Virtual Academy, and the Berrien Springs Parent Partnership gives every student enrolled in Berrien Springs the flexibility to take core classes, elective classes, dual enrollment, early college, and career opportunities in a schedule that fits their needs. For example, a public high school student could take core classes in the building (including some dual enrollment) and electives online; another student may take 100% of their classes virtually; and another student may choose to attend the public high school for math and science, take language arts and social studies online, and electives through the Parent Partnership. No matter the path they choose, students can work at their own pace and get support when they need it.
This support is what sets Berrien Springs' virtual program apart from most high school online courses where students go to a classroom or library to take an online class. Teachers are very critical to the success of online students. Berrien Springs has 15 online teachers who continually check with their students for understanding of the content. Four of the virtual teachers (math, ELA, science, and elementary/middle school) are physically located in the state-of-the-art facility where students come to work. At least two of the virtual teachers are in the building at a time so one can assist in the lab while the other can pull students out for interventions or for small group lessons. The interventions and small groups bring back some of the social aspect lost in online classes.
The behavior expectations in the virtual academy lab are similar to other programs at Berrien Springs, an on-task atmosphere where work is expected. Students have the option to take Edgenuity courses with a Berrien Springs online teacher or take courses through the statewide micourses.org catalog. A pre- and post-test is taken for every BSPS course to measure student growth. (Berrien Springs started collecting online student growth data before the Michigan Department of Education required districts to do so.) Growth data, based on NWEA testing, is an average of 1.75 years in the areas of Math, Reading, and Science. All tests are proctored either on campus or through the use of GoTo Meeting where the teacher can view the student's desktop as they are taking the online test.
Parent Partnership
The definition of a partnership in the Merriam-Webster dictionary is a business that is owned by partners. This definition can be applied to education in the sense that schools can be "owned" by partners or multiple stakeholders. Partners pool their strengths to make the business/school stronger. What began ten years ago as a conversation between stakeholders at a conference table has become a solid educational program providing over 1,000 students choice in their education.
Flexibility. Integrated content. Putting students first. Project-based learning. Parental support. Community engagement. Student ownership of learning and accountability. These are words and phrases that describe the Berrien Springs Parent Partnership and ideals that many public educators would like more of in their classrooms. "Public education is here and available, but we need choices," Superintendent Eichberg shared. "A lot of what we do in the district is due to our Partnership. The interest level keeps growing in the program."
The Parent Partnership, initiated in 2008 by home school families, has helped Berrien Springs understand flexibility in educating children in the district. Students at the public school can take the Partnership electives. Partnership students take virtual courses and courses in the public school buildings. Virtual students take electives with the Partnership. Not only is there flexibility in location and offerings, but individual students can move at their own pace. Eighth graders in the Partnership have taken college courses and students have the opportunity to explore unique career offerings such as artistic welding. Robotics is one program that began in the Parent Partnership and now students from virtual, public, and home school all participate together.
After working with the home school families, the district started looking at project-based learning and visited High Tech High in California. District staff spent three years training in the use of project-based learning (PBL). PBL has been integrated into all secondary instruction. Berrien Springs focuses on four Cs…collaboration, critical thinking, communication, and creativity. All projects in their PBL classes are built around these district standards.
One of the most popular elective courses offered in the Partnership is the Field Trip class. Over 300 students participate in this class with their parents. Becky Halcombe, Field Trip Coordinator, says parents help students continue their learning after the field trip. "The parents help to ensure that the 'transfer takes place' … as they carry that newfound enthusiasm home and reinforce it in a natural way."  More than ten trips are offered throughout the semester and students must sign up for a minimum of four. Students are exposed to many different areas of life and disciplines. Field trips have included visits to manufacturing facilities such as Subaru and Jiffy Mix, the Chicago Symphony, the Art Institute in Chicago, Art Prize in Grand Rapids, the Chicago Auto Show, Kokomo Glass Factory, Grissom Air Force Base, and several plays and ballets. Other unique classes offered by the Partnership include Animal Husbandry, Archery, Woodworking, and L'earn A Bike, in which students learn how to repair donated bikes for a charitable cause and in the process earn one for themselves by the end of class.
The Parent Partnership is open to all district students in grades K-12 and every non-campus student has a Michigan certified teacher assigned to them. Several mentor teachers are homeschool parents and are well connected to the community and understand the needs of non-traditional students.
Sharon Haynes, Parent Partnership Director, is the right person for the position. As a former homeschool parent, she understands the needs and concerns of parents who want to be more involved in their child's education and who are looking for choices. Working with her team, they develop interesting, challenging, and interactive courses for the program. Although these non-traditional students do not spend time on campus, students have been introduced to using technology such as Google Classroom and Google Forms to communicate with mentor teachers and Facebook to share resources and ideas.  
The Parent Partnership is a unique, innovative program designed to round out a student's education, whether in preparation for a trade, college, or life-long skills and hobbies that will serve them and others well in the future.
Project Lead The Way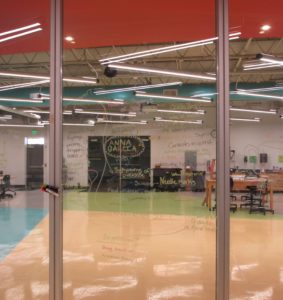 Berrien Springs Public Schools has embraced project-based learning (PBL) in many ways in the district. The most recent addition has been using Project Lead The Way (PLTW) curriculum. Under director, Emma Haygood, BSPS has implemented PLTW throughout the district. The elementary program uses PLTW Launch for their science curriculum, the middle school takes semester electives through PLTW Gateway, and the high school has a STEM program using PLTW. The location for the high school PLTW program is fitting as the building was used as a job skills workspace before Berrien Springs purchased it.

For 90-minute blocks, all year long, 9th-12th graders can study biomedical science, engineering, or computer science. Students say these courses have more hands-on science than the high school science classes and prepare them for the future [in the workforce]. In the biomedical course observed, students were examining evidence in microscopes, reading autopsy reports on their Chromebooks, writing questions and comments on the desktops, and recording notes in their scientific journals. In the Principles of Biomedical Science course, students use the same equipment and tools used by lab professionals to determine factors that led to the death of a fictional person. BSPS also offers a second biomedical course called Human Body Systems. Students in this course learn about the human body as they add organs and tissue to a skeletal Maniken®.
It takes more than engaging PLTW curriculum to make the program successful. The teachers and community are a large part of its success as well. Teachers go through extensive training to teach PLTW. High school teachers spend two weeks "taking" the course so that they have completed everything the students will be doing. Middle school teachers spend one week, while elementary teachers have a three-day training and online professional development on the modules. Elementary staff also train other staff. In addition, "We have a lot of businesses and organizations that partner with us for the PLTW program. Some of them serve on the advisory council while others provide guest speakers or open their doors to students for field trips or internships," said Haygood. Students are able to earn college credit for the PLTW courses.
Discovery Academy
Students in grades 9-12 who are looking for a non-traditional way to obtain their high school diploma can attend the Berrien Springs Discovery Academy. The Academy assists students who have barriers to their education. Some of these barriers include homelessness, behind in credits, desire to work at a faster pace, teen parent or pregnancy, bullying, and work schedules, among other issues life throws at them. Berrien works with any student who is looking for an alternative to traditional schooling and is willing to follow the structure of their program.
While students are required to come to the building on campus, they can earn the freedom to work from home. Eligible students can take CTE and dual enrollment courses as well. Full-time teachers are available to students both in the building and online, and regularly check-in with students to keep them on track to graduate. In bi-weekly student/teacher meetings, student long- and short-term goals are discussed and modified. Parents are updated every two to three weeks on their student's progress.
New to Discovery Academy students in 2018-19 is the Kinexus Bridge Academy Partnership. This partnership provides Discovery students the opportunity to work in a nonprofit, gaining job skills as they complete their education with Berrien Springs. The program is available to all students in the Tri-County area.
In addition to student/teacher meetings, teachers participate in staff meetings every three weeks to discuss each student in the program and determine ways to improve the growth and achievement of all students. Student growth is measured two to three times per year using NWEA testing. Students also participate in PSAT9, PSAT10, ACT Work Keys, and SAT testing each year.
For students enrolled in the Berrien Springs' Alternative Education program, a Discovery Academy 22 Track Diploma is available. A traditional BSHS diploma can be earned for those wanting to complete their diploma fully online. Graduation ceremonies are held twice a year for students graduating from the Academy as many of the students complete their education on a non-traditional schedule.
Positive Behavior Intervention Support Academy
Berrien Springs' Positive Behavior Intervention and Support (PBIS) is another example of how the district is dedicated to helping every individual child succeed and how they hired the right person for the job. Consistent data shows that academic achievement is tied to student behavior and attitude. To improve student academic achievement, Berrien Springs has intentionally changed the structure of in-school suspension with the hopes of decreasing out-of-school suspensions through the use of the PBIS. The intention is to create a positive culture at the middle and high schools to decrease the repeat behaviors that affect the learning environment. PBIS builds on the Shamrock Pride values to create this culture.
The program is run by Luke Antvelink, an energetic, passionate, and visionary special education teacher and coach. Luke is taking a proactive approach to changing the culture in the buildings. Rather than sitting in an in-school suspension room waiting for students to be sent there, he is logging 16,000-20,000 steps a day in the district. He believes student behaviors can be changed through relationships. "I sit with kids at lunch, talk to them in the halls, pull them aside if I hear about something going on in their lives that may lead to disruptive behaviors, and I co-teach so I can be in the classrooms with them," said Antvelink. "I want to understand why the student behavior is happening so it makes sense to talk to kids early on and develop those relationships." Antvelink also checks on kids after they've left the PBIS room. Not only is he building relationships with students, but he also builds them with teachers, helping them to understand the purpose of Shamrock Pride for recognizing and rewarding positive behavior.
While Antvelink would prefer to be out in the buildings interacting with students, sometimes they are sent to the PBIS room. "I want to keep the atmosphere in here as far away from discipline as possible and be seen as the guy who is picking up the pieces." He wants students to see that there are consequences to behaviors, both positive and negative, and views the program as a character advancement program. "Students don't sleep in this room. There is tutoring, independent practice, and behavior intervention time." Eventually, he would like to add peer-to-peer mentoring with a career pathway focus. Similar to in-school suspension, the length of the stay in the PBIS room depends on the severity of the behavior, but the goal at Berrien Springs is to keep students learning and get them back in their classes as soon as possible.
Options for personalized learning and growth in elementary school
Giving students and families choices begins early at Berrien Springs. After observing master teachers in other Berrien County districts, BSPS opened their first Young 5's program in 2015-16. The program is designed as a growth year for students rather than a retention program. Many of the kindergarteners [those in the first Young 5's program] are strong students and act as leaders in their classes. Young 5's use curriculum and standards similar to the kindergarten classes. The ideal class size for the program is 18 and they accept students as young as four years old, with a waiver. Like other Young 5's programs, some of the students are academically ready for kindergarten, but still need to grow socially or behaviorally.
A program used at Mars Elementary is Project Lead The Way (PLTW). Berrien Springs started to use PLTW in 2016-17 for their entire science curriculum at both elementary schools. In addition to the PLTW science modules, Grades 4 and 5 add science curriculum to meet state standards, while grades  K-3 follow PLTW content. For example, second graders work on PLTW's programming module in Scratch, Jr. on their iPads. One year, these students presented coding to teachers at MACUL. In addition to programming, the second graders cover three PLTW science modules for a full year of science curriculum. "Every module has an engineering and growth mindset," said Emma Haygood, PLTW Coordinator. Students in the second grade are also familiar with solving their own problems as referenced by "getting off the escalator." (Watch Stuck on an Escalator video.)
Berrien Springs incorporated project-based learning in their elementary schools after seeing the benefits with their home school families. In the project-based model, subjects are integrated rather than taught as stand-alone blocks such as math, language arts, and social studies. Second-grade teacher, Renee Peddie, loves teaching in this type of environment. "I am so fortunate to work in a district where innovation and a growth mindset are supported and encouraged!" said Peddie. "At BSPS, teachers are given freedom to modify instruction in order to best meet the academic needs of our students."
Read about her PLTW Launch experience and transition to content integration.
Peddie uses literacy circles in her class to cover multiple content areas through reading. Her students know their NWEA scores, how to read the report, and what they need to work on to improve. This ownership of learning begins in first grade at Berrien Springs. Like all programs observed at BSPS, the classroom atmosphere is a place in which to learn. In this classroom, students have alternative seating. Instead of tables and desks, there are fluffy chairs, a couch, and milk crates with padded seats. Students can rearrange their seating for the variety of learning and projects they do. Shamrock Pride is also present throughout the classroom and building. At the elementary schools, school culture includes filling buckets to show their pride in themselves and their school.
Berrien Springs offers elementary students and families the ability to learn together at home 100% of the time. A Michigan certified teacher is assigned to each child to assist families with content, strategies, and support. Like all other students in the district, virtual students have a variety of choices including online and home school partnership elective courses.
Other educational options in the District of Choices
In addition to the choices above, students have additional opportunities for acceleration such as dual enrollment and the county's Early College consortium. Any student at BSPS can choose to take career and technical education (CTE) courses as well. Berrien County Career and Technical Education courses are offered throughout the county in a shared time program at the high schools. A variety of programs are offered in each of the career pathways by each district. Forty-percent of BSPS juniors and seniors participate in the CTE program, the highest in the county. Students can earn college credit for many of the programs.
Berrien County Truancy Academy is housed in a BSPS building and run by the Berrien Springs' staff in partnership with the Berrien County Trial Court system. The program is for students who end up in the juvenile court system for poor attendance. All K-12 districts in Berrien County can refer students to the program that is funded by the BSPS' foundation allowance and the county. This program is beneficial for the 40-50 students who may have otherwise dropped out of school.
When students are given choice and voice in their educational pursuits, along with support and encouragement from adults, they will grow academically and succeed in their life pursuits. Berrien Springs Public Schools is committed to providing opportunities for students to reach their full potential in whatever path that they choose. Each path exhibits a culture of learning that has its foundation in The Shamrock Way. Along with hiring passionate and innovative staff, they create partnerships like the Parent Partnership and Bridge Academy to provide the supports and experiences students need and want. For families, students, and staff, BSPS is more than a school of choice, it's a district of choices. In addition to the cost of facilities, equipment, and staff, BSPS hires wrap-around services to support students. Social workers travel between sites and special education staff is available for online and face-to-face assistance. Finding what is best for each student is the goal for Berrien Springs.

Berrien Springs Public Schools is willing to share their experiences around student-centered learning with other districts. Contact Dave Eichberg or Angie Cramer at the contact information below:
David Eichberg, Superintendent
(269) 471-2891
Angie Cramer, Curriculum Director
(269) 471-2891
Author: Lisa Sitkins, Consultant for EdTech Specialists, October 2016, Update March 2018