Bangor Public Schools
A Pathway to Success for All Students
The Aurora Institute (formerly iNACOL) surveyed thousands of educators to identify 10 elements of personalized learning. While not every district, school, or educator around the country implements all 10 components, many are on the journey to do so. Bangor Public Schools is one of those districts who is striving to provide a personalized learning experience for every student they serve.
"Tailoring learning for each student's strengths, needs and interests–including enabling student voice and choice in what, how, when and where they learn–to provide flexibility and supports to ensure mastery of the highest standards possible." ~personalized learning as defined by the Aurora Institute in 2016
Bangor Public Schools (BPS) is located in southwest Michigan in Van Buren County. In the 2020-21 school year, BPS enrolled 1,038 students. This is 183 fewer students than four years ago, a trend felt by most school districts across the state due to lower birth rates and the state's School of Choice program. Bangor's economically disadvantaged student population is 38% higher than the state average. Fifty-two percent of students are white and 38% are Hispanic/Latino with 24% English learners. The 274 staff members at BPS continue to find ways to meet the students where they are on their learning journeys and help them find their pathway to success. 
Lynn Johnson is the superintendent of BPS. His path to this position was not the typical teacher-principal-superintendent one. Lynn grew up in Bangor and left to attend Olivet College. After working in sales and marketing for a period of time, he returned to Bangor in 1999 and started substitute teaching. That led to a long-term substitute role, then to the adult education coordinator post, and eventually to the Adult Education Director position. In 2011, Lynn started the district's virtual school under then superintendent, Dennis Paquette. He became interim superintendent in 2017 and was hired as superintendent in 2018. Lynn sees every child in the district as an individual who deserves a personalized learning environment and works tirelessly to move the district in that direction.  
The student pathway to success is reflected in the district's mission and vision statements and their core values. 'Challenging/Engaging each student to pursue their dreams.' 'Each student is valued as a unique person full of potential.' 'Each student is engaged in innovative learning environments.' 'Create Diverse Learning Environments to Meet the Needs and Interests of all Students.' These statements, along with the other core values and strategic goals, are clear indicators of Bangor's focus on individual student learning. 
Personalizing Learning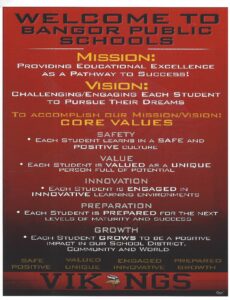 Small rural districts like Bangor have challenges not often faced by larger districts. Many rural districts lose staff to higher paying districts and communities with more to offer. In one two-year period, the staff turnover at Bangor High School was 80%. While this makes personalizing learning more challenging, BPS continues to seek staff with this vision. To keep students at the center of decision-making, Bangor has implemented professional learning communities (PLCs). In addition to being trained on how to build high-performing PLCs, BPS staff participated in a book study on Learning by Doing: A Handbook for Professional Learning Communities at Work by DuFour, DuFour, Eaker, Many, and Mattos. New staff members also receive a copy of the book. 
Another challenge small school districts face is being able to offer more choice for students. BPS is not letting the size of their district impact the options they provide. For their 280 high school students, a variety of options are available to meet different interests and needs.
Replacing a PE credit for four years of marching band may seem like a simple decision, but students interested in music appreciate this option. As many as one-third of seniors have made this decision during their high school career, not only for the credit transfer but because of the teacher. For over a decade, this small district has had an award winning band teacher. In addition to receiving multiple local awards, Tianna Doe received the MSBOA District 6 Teacher of the Year award in 2019. Over the years she has led middle and high school bands to numerous awards including Division 1 ratings at various MSBOA festivals. It's not only the awards that draw students to Tianna's classes. Tianna exhibits patience as she works with sections (e.g., clarinets, flutes, etc.) and individual students as they learn new pieces. In addition to verbally talking through a difficult stanza, she takes the time to demonstrate it using an instrument and continually gives positive feedback and encouragement. She also provides the opportunity for leadership. A student without an instrument is asked to direct. A percussionist who plans to study music is trusted to take the percussion section outside to practice while she works with other students. Tianna focuses on relationships and hits many of the personalized learning elements in the process.
Another way personalized learning takes place at Bangor High School is in the Gone Boarding class. In this class, students work in groups to design and construct all types of boards (think surf, wake, snow, skate/long, and SUP). Not only do they learn how to build boards, they have an opportunity to ride them. Students, many who have never left Bangor, travel across the state and country to surf and snowboard on the boards they make. They are also exposed to careers in the design, manufacturing, and marketing of the boards. Due to limited space, the Gone Boarding class at BHS is open to only juniors and seniors, but if resources were unlimited, Bangor would offer this block-schedule class to anyone who wanted to take it. 

Dream it…Build it…Shred it
The district started a FIRST robotics team in 2019 to meet the needs of another group of students. Many of Aurora Institute's personalized learning elements, like student agency, deeper learning and problem solving, and performance-based assessments, are employed through robotics. For the students who choose to participate in this option, robotics not only provides opportunities for them in fundraising, coding, engineering, and marketing, they also learn teamwork, communication, and presentation skills in a fun, competitive environment. While this young team dealt with COVID interruptions in their early years, Valhalla Nation 7809 still qualified and competed at the state competition. 
Students at BHS can also enroll in one of the career pathways at Van Buren Technology Center. Careers include Agriculture and Natural Resources, Allied Health Technologies, Cadet Teacher Academy, Emergency Medical Technician, Fire Science Academy, Print Media Technologies, Welding, and more. Depending on the program, students can receive high school credit, college credit, state or national certification, or a combination of these. Eleventh- and 12th-grade students that choose this option spend a half-day at Van Buren Tech and a half-day at the high school. If they choose to enroll in the ISD's early college program, students spend their days at Van Buren Tech and the college. 
Anything outside of traditional in-class learning takes place under the Bangor Career Academy (BCA) umbrella. This includes youth and adults working on their high school diplomas or GEDs, K-12 homeschooled students, youth permanently expelled from their school district, adults brushing up on basic education skills, and others who need a personalized learning plan. 
You don't have to do schooling alone. ~Mykie Reilly, Director of Alternative Programs
All classes at BCA are virtual. Every student, whether youth or adult, has a success coach who is their main point of contact. A special education teacher is on site who manages a special education caseload and supports other virtual learners. Students are required to come into a lab once a week, but can choose the day that fits their schedule. The on-site labs are staffed by a certified teacher. Staff spend time in the lab building relationships with students, helping students with coursework, and checking on class progress. Students enrolled in BCA may also participate in the district's esports online gaming club, Girls Who Code, Trap Shooting, or any other club or activity offered by the district. 
For a learning management system, the district uses Apex Learning for grades 6-12 and SchoolsPLP for K-5. SchoolsPLP pulls in multiple curriculum providers so BCA can offer a variety of options for students like Lincoln Learning Solutions, Bright Thinker, and eDynamics Learning. It also offers a built-in language translator, text to speech, workbook option for lower elementary, and a notetaker, all necessary items to help their population be successful in their learning. 
Mykie Reilly, Director of Alternative Programs, co-creates a personalized learning plan with each student at Bangor Career Academy through an interview process. They talk about what the student needs, the student's goals, what kind of schedule is required, where the student likes to learn, and the student's affinity for getting help. One of the questions she asks students is, "What works for you?" Whether the student/adult needs a customized math curriculum, a flexible schedule, or additional support, Mykie finds a way to meet their needs. 
Who is a Bangor Career Academy student? 
Students in the traditional classroom who need to personalize their learning by taking virtual courses and credit recovery through BCA. 

Students that want the flexibility and freedom to attend Van Buren Tech, get a job, take college classes, participate in band, or graduate early. 

Permanently expelled students from Bangor or surrounding schools take Bangor virtual courses at home and their teachers meet them virtually and in the community.

In 2020-21, 55 students were enrolled in BCA's online Adult Education program working on their high school diplomas, GEDs, or math, reading, and writing skills. 

Emotionally impaired students enrolled in the Van Buren ISD Behavioral Education Center have earned their GEDs through BCA.

Homeschool students that want to take elective courses.

Students that want to work at their own pace.
Project Term: Student Voice and Choice
In 2019, four Bangor teachers were trained in project-based learning (PBL). These three high school teachers and one middle school teacher not only provide personalized learning for their students on a regular basis, they are a PBL resource for other teachers in the district. This proved beneficial when the district implemented a Project Term at the end of the 2020-21 school year. 
To develop a five-week Project Term schedule, teachers first created a list of potential offerings. Then students "voted" on their top choices, ending with a schedule that would fulfill student needs and wants. Ending the year in this manner motivated both staff and students who had voice and choice for what they wanted to teach or learn. Courses were multi-grade (e.g., 6-8, 9-12) instead of grade level (e.g., 6th ELA), were outcome based (credit or no credit) rather than standards based which is used in regular terms, and were nontraditional in the way content was covered. A block format was used so students had longer class periods to work on projects. Because this inaugural Project Term was during COVID, some students chose to complete their courses from home so teachers had fewer students in their classrooms and taught the rest of the class virtually. Students who successfully completed their core courses were able to choose a full schedule of elective classes. 
A wide variety of courses such as Cultures Through Crafts, Create a Personal Budget, Paper Jewelry, Art of War: Chess, Gone Biking, Intercultural Communications, Salvage Art, and Beginning Knitting were available for students to choose from. Core-related courses (i.e., "core" subject content, but not an entire course) included Simple Inventions, Anatomy, Kitchen Chemistry, History Goes to the Movies, Outdoor Science Labs, and Basic Reading and Writing. While many elective courses were offered, Project Term also included remedial core courses such as Chemistry, Algebra 2, English 9, and 7th ELA for students who had gaps in their learning during the first 32 weeks of school. Offering remediation courses during the last five weeks of school resulted in 120 students recovering credit for the year which allowed some of them to skip summer school. 
During Project Term, Alexandra (Alex) Packer, a 7/8 ELA teacher, taught Photo Journalism and Choose Your Own Adventure in addition to remedial 8th grade ELA. While there were 35 students in her Photo Journalism class, only a handful of them attended in person with the remaining students completing the course virtually. Alex used Google Classroom to upload lessons, communicate, and have students submit their work. Students learned about photo essays, their benefits and challenges, captions, and rules of photography. The class walked the school grounds and local parks to take photos that demonstrated what they were learning. Students were able to receive 1-on-1 instruction with Alex as she guided them, offered suggestions, and challenged them. In her Choose Your Own Adventure (CYOA) course, students studied a few CYOA novels, created a CYOA using Google Forms, and played a CYOA board game if their work was completed. Alex was trained in PBL in 2019 and is looking forward to a year without COVID so that she can incorporate more project-based learning in her classroom. 
Students in Amanda Remington's 3-D Design Project Term course gained problem solving skills as they worked with the 3-D printer, Sphero Minis, and VR headsets. Because the equipment had sat dormant for a year, students learned how to handle hardware issues and update software. Once those problems were solved, they went on Google Expeditions with the VR headsets, created projects for the 3-D printer in Tinker CAD, and used the classroom tablets or their phones to maneuver the Sphero Minis through self-created mazes, to knock down bowling pins, or to play golf. Students taking the course virtually created Tinker CAD projects and submitted their work through Google Classroom. Amanda, a 6/7 science teacher, found that students were more engaged in this class leading to fewer behavior problems. 
Debating the branches of government, creating a SCORE card for the King of England's war with America, and simulating Westward Expansion are all projects students complete in a regular-term history class with Lucas Smith. Students in his Shark Tank Project Term course presented products to a panel of high school judges. Products pitched included a portable pitching machine, a hoverboard that flies, a stove that turns on immediately to the correct heat, contact lens/glasses to view a phone screen when it's sleeping, a Nanny Bot, and a candy/pop machine dispenser. In his City Planning course, students used MineCraft, poster board, paper and tape, or whatever media they were comfortable using to design a city. 
A honey pot, Viking tavern mug, bowls, and trays with impressions. These are some of the projects students made in the Ceramics Project Term course. Students said they liked Project Term because it gave them a break from traditional academic classes and was relaxing (these same students were also taking SAT prep and anatomy classes during Project Term). Another student shared how she liked learning how to do things she didn't know how to do before. One student taking a US History credit recovery course during Project Term shared that she looked forward to coming to school just for this ceramics class. Like this student, ceramics was the reason Alexa Neumann, Bangor High School ELA teacher, stayed in high school herself. Art is a passion for her so offering a ceramics course for Project Term was a given. Alexa also shared, "Project term allows students to learn a hobby while also using math, science, chemistry, art, and ELA." In addition to ceramics, Alexa taught a remedial English class. Project Term allowed her to work with fewer students, giving them the time they needed to learn with her guidance. During the regular term, Alexa teaches an English 9 class and incorporates PBL into the curriculum. As a PBL project in this course, students interviewed someone they knew who had been through hardship. The students asked, "How do the struggles we go through shape us and how we view the world?" After writing a narrative telling the person's story, students converted their writing into a podcast.
As the 2021 Project Term came to a close, BPS shared student projects through a virtual event (due to COVID). The online presentations demonstrated student learning over the five-week period. Bangor Creates is housed on the district website. It contains presentations and videos from all buildings. A sampling includes high school ESL Story Tellers videos, middle school Science Fair Projects, and elementary school Recipe for a Good Book. 
A few years ago, project-based learning in the district took place in one or two classrooms or during Project Hour at BCA. Project Term has shown both staff and students that learning empowers students to solve problems through projects. Superintendent Lynn Johnson is continuing to move the district toward more personalized learning, outside of Project Term, and is providing project-based learning training to teachers on a wider scale.
Engaging the Community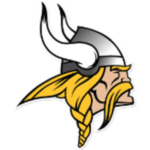 Communication and Stakeholder Engagement is one of Bangor's strategic goal areas. Within this goal, the district would like to add more student voice by adding a student to the school board, build more external community partnerships, inform the public on a more consistent basis, and obtain more ISD support. One way BPS currently communicates with the community is through the Vikings Radio Show. On this show, which is broadcast twice a month on the local radio station WCSY, Bangor staff share district initiatives, event information, honors and awards, and more. 
Bangor holds an alumni dinner every fall where current students perform for the community. They hold Literacy Nights, send surveys to families, and have Christmas and Cinco de Mayo celebrations through the Hispanic Student Association. Through a partnership with the Youth Development Company, Bangor offers summer day camp for kids 5-12 in one of their buildings. The local Amish community participates in Bangor's back to school event and the South Haven K-8 Catholic School takes shared time art and physical education courses through Bangor. No matter the size of a district, building relationships and engaging the community can create more opportunities to personalize learning for students.  
As Bangor Public Schools strive to reach their 2019-2024 strategic goals, they continue to move toward more personalized learning for all their students. Each step in improving the learning environment and culture, giving students more voice and choice, building more community partnerships, and creating processes and procedures to support the learning brings more opportunities and options for students to find their own pathway to success.
Author: Lisa Sitkins, President and CEO, LSS Connections and Consulting LLC, October 2021