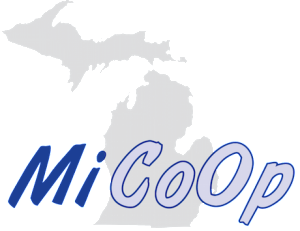 The Michigan CoOp is a network of school districts that are early adopters of successful, efficient, and effective learning models. Districts leverage each other's strengths to create new opportunities for student learning and engagement. Cooperation and sharing of resources between districts allow each district to successfully offer their own unique program options for their students. Through collaboration, the MiCoOp can offer initiatives that districts could not accomplish on their own.
We believe:
whether students learn is what's essential; not where, when or how they learn
students are unique and are entitled to their own individual learning plan
students need/want a menu of synchronous and asynchronous options that span brick-and-mortar, online, and community involvement
true cooperation (vs. competition) benefits districts, students, and teachers
Programming we support:
virtual/online education
early/middle college programs
partnerships in education
project-based learning
competency-based education
blended learning
growth models
individual learning plans
year-round school
community resource courses
MiCoOp initiatives:
K-5 seat time waiver
cost savings through partnerships with vendors, sharing of resources, and consolidation of services
virtually supporting students with academic coaches and support services such as counseling
virtual instructor teacher training
alternative teacher certification model/option
sharing of resources including technology, teachers, support, management/administration, and course offerings
gathering data on innovative programs in relation to graduation rates, credits earned, and financials, reporting information annually
The Michigan Coop is facilitated by EdTech Specialists, LLC and LSS Connections and Consulting, LLC.