Graduating Leaders
Gull Lake Community Schools (GLCS) encompasses 150 square miles covering three counties between Kalamazoo and Battle Creek. Over 3,400 PK-13 students from a wide range of economic backgrounds are enrolled with GLCS. According to point2homes.com, South Gull Lake, MI has a median household income of $69,637. Ninety-one percent of the population has some college education with 73% holding a bachelor's degree or higher. While a large percentage of the Gull Lake community are middle- and upper-class residents, 42% of the population holds blue collar jobs and 25% of the students at Gull Lake Community Schools receive free and reduced lunch.
The mission of Gull Lake Community Schools is to educate every child to the best of his/her ability. To meet the wide range of student/family needs, GLCS provides a variety of program enrollment options. These programs include a traditional PK-12, an alternative school, a virtual school, and a partnership. Every child, regardless of the program selected, is a Gull Lake student and can design their education from one or more of these programs. Many students, especially in high school, blend their education within these programs. For example, a student may take two Gull Lake High School courses, dual enroll in two courses at the college and take a partnership course while another student may attend the partnership, take two online courses through the virtual school, and enroll in nursing classes at Western Michigan University. Once enrolled in GLCS, students are provided a rigorous, personalized experience through a variety of choices.
Gull Lake has been on the forefront of educational innovation for many years as they were among the first to try new initiatives including all-day kindergarten, 1:1 devices for students, the virtual school, and early college. Gull Lake's innovation journey also includes a partnership with home school families that has expanded overall district programming. Robotics and fencing began at the partnership and are now woven into the traditional school course offerings. As students, families, staff, and the community become more familiar with the ability for students to choose from a variety of options in their learning, more blending of programs will occur.
This blending of programs can be attributed, in part, to Gull Lakes' commitment to Multi-Tier System of Supports (MTSS). The focal point of MTSS is student learning. Gull Lake provides academic, social, emotional, and behavioral supports and interventions to every learner, whether struggling or advanced, so they can be successful. Because the focus is on students and learning, a variety of flexible educational options is offered. Based on the MTSS model, Gull Lake supports student learning with great leadership, a culture of trust and empowerment, and professional development. GLCS provide district-wide professional development, aligned to their school improvement plan, through personal learning communities (PLCs) and other opportunities and resources. Continual school improvement through data-driven decisions has changed the way the district works and collaborates together.
As with other innovative districts, it's the school board and superintendent that guide and support the change that happens. Chris Rundle, Superintendent of Gull Lake Community Schools, believes the board is the most important part of their innovation journey. Without their support, innovative, personalized initiatives prompted by the staff, families, or community would not be possible. Over the nine years that Chris has been superintendent, only one board member who hired him remains, exemplifying GLCS' commitment to personalized learning.
In addition to giving kudos to the board, Chris credits his staff for the district's growth in student-centered learning. "We have an excellent, creative, and innovative staff that puts kids first." The staff is also quick to acknowledge their superintendent's humble character: modest, trustworthy, and supportive. That trust and support are shown by listening to ideas, supporting innovation, and not micromanaging. He expects staff to follow through with initiatives but is quick to act if necessary. This mutual respect and drive by the board, Chris, and the staff create a culture of innovation leading to student success.
The following information highlights ways in which Gull Lake is personalizing education for students. While the format for this article separates the initiatives by program enrollment options, students at Gull Lake can blend their learning between programs. This inclusiveness culminates at graduation where students from all programs walk across the stage together. This year, fourteen students from the virtual program walked across the stage at Commencement, with their traditional counterparts. Two of those virtual students were included in the Gull Lake Community Schools Foundation Distinguished Academic Scholar Reception for their achievements of having a 3.9 + GPA.
Innovation and Personalization in the Traditional School Structure
U.S. News & World Report named Gull Lake High School as the highest college and career readiness scoring high school in the greater Kalamazoo area in 2014 and 2015. GLCS create a college-going culture for all students from the time they enroll until they graduate. At every level, Gull Lake
reviews school improvement plans and makes adjustments yearly.

aligns curriculum to state standards.

uses data to drive college readiness policies by benchmark testing and progress monitoring.

works to engage families in supporting their child's educational journey to adulthood.
Elementary Schools
Preparing kids for success begins at Gull Lake's three elementary schools, Kellogg Elementary (PK-2nd grade), Richland Elementary (K-2nd grade), and Ryan Intermediate (3rd-5th grade). Class sizes are kept around 20 students to provide more interaction between the teacher and students. Teachers use 1:1 iPads in the classrooms to personalize and accelerate learning for their students in each building.
The staff at Ryan Intermediate creates a school culture where all children are empowered to be leaders. It's a change in thinking and believing that every child is capable. Through the Leader in Me process, students learn the 7 habits of happy kids and how those leadership and life skills will equip them to be successful leaders in whatever path life takes them. These skills include being proactive, having a plan, working before playing, thinking win-win, thinking before talking, working with others, and keeping life balanced. This leadership training is woven into the daily activities of school so that these skills become part of the students' lives.
Instead of seeing children through the lens of a normal distribution curve—some kids are naturally smart and others are not—The Leader in Me paradigm sees that every child is capable, every child is a leader. This paradigm changes everything. ~The Leader in Me website
ExCEL (Explorations in Critical Thinking to Enhance Learning) is an academic enrichment program available for the top 10-15% of students in each grade, 1st-5th, to personalize education for this population. Students meet with an instructor for 50 minutes per week in this pull-out program. The activities offered are in addition to their regular classroom curriculum and challenge students to think critically, read at a higher level, research, and more.
As with all Gull Lake programs, student data drives instruction for continuous improvement at the elementary level. Data is gathered from their Core Reading Program, DIBELS, Delta CBM, STAR, MEAP, and SWISS. The data is analyzed regularly and changes are made in instruction to improve student learning. Other components that assist in Gull Lake's elementary school improvement are math/reading learning labs, after-school and summer programs, counselors and social workers on staff, a partnership with Big Brothers/Big Sisters, and systems like positive behavior support and Response to Intervention (RTI).
The district is a K-8 MiBLSi (Michigan's Integrated Behavior and Learning Support Initiative) school. Many other schools in Kalamazoo County also participate in MiBLSi, so in addition to solving specific issues within their buildings, Gull Lake teachers and staff are able to share ideas and problem-solve with other schools facing the same issues.
Gull Lake elementary schools build a strong learning foundation for students that prepares them for the next step in their education journey. Analyzing student data empowers the staff to personalize programs and supports through technology and other learning options.
Middle School
Gull Lake Middle School (GLMS) houses students in 6th-8th grades. Students participate in advisory every morning where they learn academic success, behavioral expectations, and relationship building skills. Sixth-grade advisory focuses on transitioning to the middle school and character building lessons while 7th and 8th grade advisories focus on goal planning for continued improvement including grade awareness and behavior expectations. Like the elementary school, teachers personalize and accelerate learning with Chromebooks, MacBooks Airs, and iPads. The middle school's goal is for every student to have a device for their individualized learning.
The curriculum at the middle school that allows students to find their passions includes Project Lead the Way (PLTW), virtual school options, Science Olympiad, Destination Imagination, Bella Voce, band, student council, and yearbook. Beginning in 7th grade, students use Career Cruising to develop an educational development plan that they continue to adjust in high school and as they learn more about themselves, careers, and life in general. All students in 8th grade take the PSAT and have the opportunity to take advanced classes such as Algebra I, ELA 9, Spanish I, and PLTW Computer Science high school credit.
Supports for students in the middle school include the Reaching & Teaching Struggling Learners (RTSL) program, counselors and social workers on staff, at-risk interventions, positive behavior supports, and a gatekeeper program in 7th grade for social and emotional support. The programs and supports available at GLMS prepare students for the educational opportunities at the high school.
High School
Like other buildings in the district, Gull Lake High School (GLHS) facilitates personal learning communities, exposes students to skill-building activities, provides accelerated and extended learning opportunities, and provides support for all students, especially those at-risk. Counselors have a toolbox of options to offer students to personalize their learning including high school courses, college courses, virtual courses, and partnership courses. A strong emphasis is on meaningful educational development plans and every student meets yearly with their counselor to discuss their unique plan.
High school students have a variety of options to personalize their education. In the high school building, students can take courses in fine and performing arts, business and technology, newspaper and yearbook, writing and speaking, applied technology, family and consumer sciences, physical education, world languages, and electives in the core areas of math, language arts, social studies, and science. Virtual and partnership courses are available through Gull Lake, Education for Employment and Education for the Arts courses are available through Kalamazoo Regional Educational Service Agency, and Kalamazoo Area Math and Science Center courses are available through Kalamazoo Public Schools.
Virtual course offerings are popular with Gull Lake High School students. Five years ago, students taking virtual courses would be found sitting in the media center or working independently on their own. The virtual offerings have grown to the point that a classroom is dedicated as a virtual classroom supervised by a GLHS teacher/mentor, Brendan Howard, who monitors Gull Lake High School students taking online courses.  Mr. Howard has made many improvements in the way virtual classes operate within GLHS and those changes have resulted in much higher success rates.
High school students can also dual enroll or take AP courses to gain college credit. Most dual enrollment courses are offered off-site at local colleges. Similar to other schools around the state, the number of dual enrolled courses taken by Gull Lake students doubled from last year. Ten AP courses are offered at GLHS. Of the 211 students who took AP exams in 2016, 205 scored a 3 or higher on the exam. Gull Lake High School was recognized by the College Board as an AP Honor Roll school in 2012 and 2013 for increased enrollment in AP courses and continued improvement on AP exam scores. Another option for college credit is Gull Lake's Early College program (see Gull Lake Virtual School and Early College below).
Twenty student clubs were available to students during 2016-17. In addition to common clubs such as Chess Club, National Honor Society, Quiz Bowl, and Student Senate, GLHS also offers unique clubs such as Arduino Club, Environmental Club, Poetry Club, Volunteens, and Robotics Club. The Gull Lake High School robotics club benefits from the depth of their robotics program which begins with Ryan Intermediate's First Lego League teams and continues with the middle school's FIRST FTC team.
One of Gull Lake's most innovative programs at the high school is its Computer Science program. In its second year, the Computer Science program consists of Intro to Computer Science, Computer Science & Software Engineering (CSSE), and Advanced Computer Science. Next year, students will have the option to take a Research and Development class, and in 2018-19 a Cyber Security class will be available. Throughout the program, Brad Lange, High School Technology Teacher, mentors students through frustration, failure, and success.
All Gull Lake ninth-grade students may take the Intro to Computer Science class. In this class, they are introduced to computer programming as they learn the language Python, and they spend time learning how to develop apps. Students who are interested in this type of work usually take the CSSE class. In CSSE, students work in teams to develop computational thinking and solve problems as they learn a variety of programming languages including C+, hardware such as Arduino boards, and software like Tinkercad.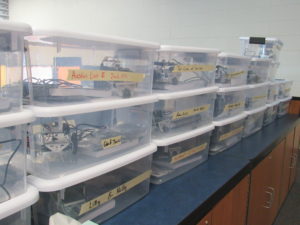 The CSSE course begins with a Boe-Bot unit. In this unit, students build a robot and program it to perform basic maneuvers such as drive in a straight line, turn 90 degrees right, and turn 90 degrees left. Through this testing, students learn to be accurate programmers, although they are often heard saying, "That's close enough." When this occurs, Brad asks the students, "If your family was in that self-driving car, would 'close enough' be okay?" Following the build-and-test phase, groups design a maze (track) and program the robot to follow that track. They use the codes they just created and have to write new codes for speeding up and slowing down to go around curves. Groups compete with one another to see whose robot can perform the best based on an accuracy rubric. Patience and persistence are learned through this iterative process as the robot often doesn't perform as the students thought it would. A lot of math and basic coding skills are also learned as they reprogram and test again.
Once students complete the Python program and master Boe-Bots, they begin to learn about Arduino boards. According to SparkFun Electronics, Arduino boards are used to build electronics projects. They consist of circuit boards attached to IDE (Integrated Development Environment) software on a computer which sends code (i.e., directions) to the board. Student teams go through 10 tutorials in Autodesk, a software program that simulates an Arduino board. Projects vary, but may include turning lights on/off, taking pictures, or turning switches on/off. Once they prove they can successfully use a virtual Arduino board, students can then physically create what they designed. The final project for this unit is a Ted Talk video where students explain how they came up with their idea for the project, show the hardware components used, elaborate on the code, and present what the Arduino board actually does. The videos are put on a YouTube channel or Google Videos for others to view. When students have questions during the entire process, they are required to search Google for an answer and ask three other teams before they can ask their teacher for help. Brad's facilitation role in this process is important as it is consistent to what students will encounter in this career field. "It's great to hear the students say, 'Holy cow! I did it! And see them giving high fives when they are successful," shared Brad. Two students were so interested in Arduino that they started a school club, Arduino Project, that continues to meet during seminar one day a week. Students come in and tinker or work on their projects for a class.
Another unit in CSSE is virtual machines. A virtual machine is a piece of software the students install on their school computer that allows them to set up other operating systems on that computer. The operating systems installed are Windows and Linux. Students can then "enter" one of the other virtual machines to install, update, and test the operating system. They can set up users and security features, create viruses to see how they affect the operating system, install anti-virus programs, and perform malware checks. This testing and learning about other operating systems using a virtual machine can be done without affecting the actual operating system of their school computer.
Gull Lake is personalizing education for students who are interested in computer science and it begins with the research and design part of CSSE. Like many employees at major companies such as Google and 3M, students spend 20% of their time being innovative. On Fridays throughout the school year, students work independently or in small teams on a research and design project. From idea generation to design to implementation, students are in charge of their own learning which includes researching and learning programs not taught as part of the regular course. Brad is available as a resource and ensures that students are on task and making progress, but he also allows students to make mistakes and fail. Students are required to create a website that shows their research and development. At the end of the year, students showcase their projects in the high school media center on Innovation Day. In addition to district staff and students, attendees at this gallery-walk style event include representatives from Eaton, Stryker, Newmind Group, and Maestro.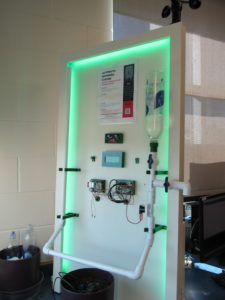 Research and development projects completed by students this year fell into a variety of categories showcasing the various interests of the students: Video Game Design, Arduino Boards, 3D Printer, Music, Phone & Tablet Applications, Computer Programming, Graphic Design, Computer Build, and Social Media. One of the projects completed was an automatic watering system. This system uses a 12-volt battery, charged by solar, to run the entire system. A voltage regulator keeps the power consistent to the Arduino Uno board where the brains of the system reside. To determine if the plant needs to be watered, the system uses sensors to measure soil and air temperatures, soil moisture, and the light level in the room. A LED light around the project indicates if there is too much or too little water in the soil, and the system automatically waters the plant when the programmed levels are reached. A breadboard is used to house all the electrical circuits, one of which is the electric water valve that opens when water is needed. Throughout this project, the student learned electronics, programming languages, and 3D printing as well as research skills, product testing, patience, and persistence.
On Fridays, the 3D printer runs non-stop as students use it to make parts for their projects or to make their projects themselves. "We could use another 3D printer," Brad shared as student requests to print kept increasing. "Printing the frame is no problem, but it's the internal parts that are expensive." Students using the 3D printer used Tinkercad software to design their pieces which included chess pieces, a medallion, a cryptex, and various parts for other projects. Most of the students designing video games used a free version of Unity, a platform for game design. Students learned the software on their own by watching tutorials, reading documentation, and talking with one another. One student in the class built his own personal computer that could use multiple keyboards, mice, and screens at one time. When he got it to work, he was overheard saying, "I'm so proud of this!"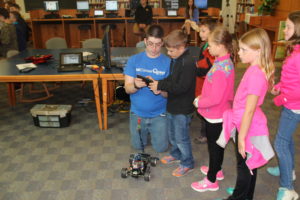 Because the research and design portion of the CSSE class have been so successful, a Research and Development class will be offered next year. "The class will cover anything under the STEM umbrella. Students will be able to retake it to continue working on a project or try something new," said Brad. "I'm excited to see what the students come up with when they have five days a week to tinker and learn." After CSSE, students can choose to take the Research and Development class or go into the Advanced Computer Science class. This class is more targeted toward programming/coding. Students learn JAVA programming and use Android Studio for app development.
Beginning in 2018-19, students will have another class option, Cyber Security. The "class" is currently being offered for an hour after school on Tuesdays. Alberto Garcia, Lead Security Analyst at Stryker Corp. and Sergeant Erik Elliott, Cyber Security Analyst for the Air Force, assist with this program. Students work in teams of up to six and learn how to find cyber security vulnerabilities within an operating system code through the CyberPatriot program. The learning takes place in a virtual competition with other schools/groups from around the country. Currently, the Gull Lake students participating are competing in an exhibition format, but next year when they compete they will be able to see other schools' scores.
Brad shared that he was intimidated when asked to teach computer science, but the support from administration, the community, and IT has been overwhelming. "I'm learning so many things every day. I want to learn as much as I can." Much of his learning comes from professional development funded by the Kalamazoo Regional Education Service Agency (KRESA) and Gull Lake Community Schools. "My program is part of KRESA's EFE (Education for Employment). In addition to helping with my professional development, they fund our computers, Arduino boards, and Boe-Bots." Because Computer Science is an EFE program, any student in the county can take his course. Ten students outside of Gull Lake are enrolled to take courses in the program next year.
While the Computer Science program is one way in which Gull Lake continues to be innovative and personalizes learning for their students, GLHS also provides a variety of course options and learning pathways for students to be successful in what interests them. Some of these options include courses in the virtual school, early college, alternative school, and partnership programs.
Gull Lake Virtual School and Early College
In addition to preparing students for college and careers in the traditional programs, Gull Lake Community Schools has expanded their offerings to provide college and career readiness in other programs. One area where GLCS is most innovative is moving from silo programs to blended programs. Each Gull Lake program has unique creative ways to meet students' learning needs, and more students are requesting to blend their learning between programs. Bobbi Jo Stoner, Coordinator of Early College & Innovative Programs, experienced this when she was a counselor at the high school. "One of my students came in for advising and requested classes from the high school, virtual school, and the partnership," she explained. "She opened my eyes to the options students have if they want them. We got creative and found ways to make it work for her and many other students are requesting personalization in their schedules as well."
This personalization also provides more flexibility for administration and staff at GLCS. The district was able to offer a teacher a shared position at the partnership and virtual school rather than laying him off. Other Gull Lake teachers also teach in more than one Gull Lake program. For example, the Spanish/French teacher teaches half-time for the virtual school and half-time for the traditional high school. An ELA certified partnership teacher also teaches classes in the virtual school.
The Gull Lake Virtual School (GLVS) began seven years ago as middle and high school students in the Gull Lake Partnership sought more options than were available at the high school. Today, over 200 students are enrolled in online classes. Beginning in the 2017-18 school year, there will be a Gull Lake Virtual School drop-in lab housed within Gull Lake High School dedicated for Gull Lake Virtual students. All virtual students are paired with one of five caring mentors, many who are Gull Lake retired teachers. The mentors connect with the students at least once a week. Mentors and students have been known to meet at the public library or the administration building but regularly connect virtually through email, discussion boards, and phone or video calls. Most online teachers are hired from the curriculum vendors, but GLVS is in the process of hiring their own full-time online content area teachers. During the 2016-17 school year, a Gull Lake math teacher who moved to Virginia was hired to teach virtual math courses and a science teacher/tech support person will be hired for the 2017-18 school year. As enrollment has increased, the district has been conscious of the fact that they are responsible for meeting the needs of the online students. As a result, staffing is regularly evaluated and has resulted in a new part-time position of a Virtual Advisor who will be able to work closely with mentors and teachers to increase student success across the district for unique learning plans.
Another program the partnership suggested Gull Lake pursue is an early college program. The Gull Lake Early College (GLEC) program is unique in the state as students can choose their own program. For example, a student may study health careers at KVCC while another pursues business or sustainable food systems. Students aren't forced into one specific path at the college. GLEC also works with three different partners, Kalamazoo Valley Community College (KVCC), Kellogg Community College, and Western Michigan University. A college advisor from each of the institutions is assigned to work closely with Gull Lake Early College staff and students. Every week, early college students connect with their early college mentor during seminar time at the high school. Gull Lake staff devoted to early college mentoring in Gull Lake include the college and career readiness classroom teachers, counselors, seminar teachers, and virtual mentors.   
Gull Lake's philosophy for structuring their early college program this way includes:
allowing students to continue their personal educational goals.

providing an opportunity for as many students as possible to attend college.

providing an opportunity for as many career paths as possible.

enhancing a culture of higher level learning in the district.

having every student believe they can attend college.

preparing students for college success.

raising the bar for underclassmen.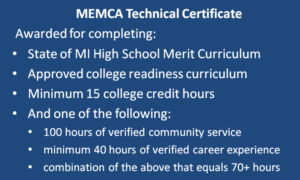 Over 200 students are in the GLEC program with 70 tenth-graders enrolling in 2016-17, their 6th cohort. Those who graduated from the Gull Lake Early College program in 2017 and who attended KVCC received an honor cord from the college to wear at graduation. Beginning in 2017-18, students will be required to take an online Early College Capstone course for the duration of their 13th year. The capstone course will walk a student through their first year of full-time college, month by month as the year progresses. During this year, students will successfully demonstrate college and career readiness as they complete Early College Grade 13 with an associate's degree, certificate, 60 transfer credits, or MEMCA certificate. At the conclusion of Grade 13, students will have a solid plan for the following year of employment or continued college coursework.  
As the Innovative Programs have grown in Gull Lake, staff assignments have been shifting to keep up with changing student needs. A veteran Gull Lake High School counselor is transitioning into a new role for the 2017-18 school year as the Innovative Program Counselor and Early College Capstone Teacher/Mentor. Jodee Stanton will be joining the Innovative Program team and will be instrumental in the unique schedules of Gull Lake Virtual and Early College students. Her knowledge as a classroom teacher and school counselor will be a benefit to the students she will be mentoring in Grade 13 through the online capstone course. The local college partners have been very helpful and willing to offer office and meeting space in the event she needs to meet with students on-site at college locations.
Gull Lake Partnership
The Gull Lake Partnership is another way Gull Lake provides personalized options for students/families. Gull Lake began a Homeschool Partnership seven years ago, but has since dropped the homeschool designation as students from all Gull Lake programs, Kalamazoo County, and the contiguous counties can and do, take courses in the Gull Lake Partnership. Over 600 K-12 students enrolled in one or more courses in 2016-17. Many families who enroll in the program want to be more involved in the education of their children than the traditional setting allows. Parents stay at the facility in this program and can be found in the building or out on the playground, often with siblings of the enrolled student. Personalization also extends to students in other Gull Lake programs as choices for their learning. Students in the Gull Lake Virtual School take non-essential classes through the partnership as do some students from the traditional programs. "I love the blurring of the lines and the diverse group of families we serve," shared Cindy Fadel, Director of the Gull Lake Partnership.
The partnership is housed in an old Gull Lake elementary school in Bedford, a town between Gull Lake and Battle Creek. The facility was no longer used for traditional programming so the district repurposed it for the partnership program. Every inch of space is being utilized in the building including creative uses of storage spaces. In addition to five classrooms, the building has a gym, library, and kitchen. Students self-checkout iPads and MacBook Airs from the cart in the office to use while at the facility. Because the partnership has outgrown the Bedford building, students in the program may also take classes at the Richland Area Community Center. The district will look at other options if the program continues to grow.  
Because courses offered at the Gull Lake Partnership are all non-essential, unique options are available, some of which have been incubators to classes at the traditional school. Both robotics and fencing began at the partnership and were then offered at GLHS. This year, the partnership started a Genius Lab which is open to instructors, students, and parents. "I feel the greatest benefit [of the partnership] is the seemingly endless possibilities it offers to every student in the district. Not only can all students take creative and timely classes, but everyone [including teachers, parents, and siblings] is inspired to find more creative ways of teaching and learning," shared Betsy Springer, Lead Teacher at the partnership as well as Gull Lake ELA Virtual Teacher and homeschool mom. She will be offering a Genius L.I.N.C. class at the partnership next year. Students will work on passion projects, similar to the Research and Development course offered at the high school, but can include projects beyond technology. They will work cooperatively to share their knowledge with other students, teachers, and guests by exhibiting their passion projects and providing demonstrations. This class will be led and facilitated by Betsy.
Gull Lake Partnership classes are designed to be more hands-on and investigative and look like a one-room schoolhouse with students of varying ages. It is also not unusual to see students lying outside in the sun with their families while doing their school work. "I remember an early college student sitting in the back of a truck on a hay bale doing her college work while her siblings were attending classes inside," reminisced Cindy. For virtual classes, students meet at the partnership one day a week and then complete the other portion of their class online with their parent at home. Many partnership virtual classes have an extended learning opportunity (ELO) which is similar to a lab except it meets somewhere in the community. The partnership also offers project-based courses like Tinkering, Minecraft Communities, and Wild and Woolly Adventures in the Outdoors.
Each student in the partnership is assigned a mentor. Mentors communicate weekly with students to check on progress and assist with communication and/or technical problems. Families with more than one child enrolled are assigned the same mentor. The program has four full-time Michigan certified teachers and nine part-time teachers, many who are also mentors to students. Some of the teachers also teach in other Gull Lake programs. Cindy noted, "I appreciate the collaboration that has been built between nontraditional and traditional educators."
Both Cindy's and Betsy's most memorable moments are the excitement and gratitude that families express for these opportunities for their children. As shared by Betsy, "One mother that I talked to in August of 2016, during a quiet day before school started, gasped and even cried a little at the opportunities the partnership would provide for her children." The Gull Lake Partnership is a resource for students/families for their learning and is a way in which Gull Lake is personalizing education for every student.
Gateway Academy
Gateway Academy is another program offered at Gull Lake to meet the needs of their students. For those who have had difficulty being successful in other programs, this alternative school offers more supports to students. In addition to typical alternative school offerings such as individual course planning, a more structured setting, and flexible hours, Gateway Academy also offers mental health services in the building, encourages participation in community service events, and teaches life skills. Whether it's receiving their diploma, being a productive citizen, or learning life skills, the staff has high expectation for all of their students.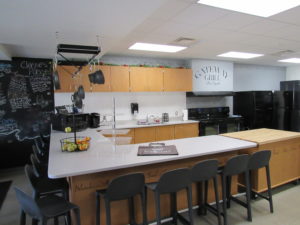 In January 2017, Gateway moved into their new facility, located in the lower level of the administration building. The new home-atmosphere space is designed with room for learning and relaxing as well as access to a full kitchen, a washer and dryer, and a restroom with shower. To learn life skills, students plan menus, shop for ingredients, prepare meals, and clean up. They are assigned a day of the week when they can bring in clothes, towels, blankets, etc. to wash and dry. Other life skills covered in the program include car maintenance, tax preparation, applying and interviewing for jobs, budgeting, and problem-solving. In addition to learning how to be healthy through eating, students have the opportunity to exercise regularly at the Sherman Lake YMCA each week. Gifts from the Gull Lake Youth Depression Committee and a private donor made this possible.
Each student is required to complete 20 hours of supervised community service each year. Students have cleaned up the Richland Township Cemetery, taught technology at the Richland Area Community Center, and helped out at the SPCA of Southwest Michigan and the Red Cross blood drive. Other volunteer works completed by students include bus cleanup, teacher assistant, making cards/ornaments for veterans, and pulling garlic mustard.
Gateway uses Edgenuity curriculum on Chromebooks for online core and elective courses. Students also have the option to take non-essential courses through the Gull Lake Partnership and Gull Lake Virtual School. Reminders to specific students of assignments/projects due or notes of encouragement and congratulations are often posted on the chalkboard wall located in the livingroom of the facility. To encourage students to further their education beyond high school, students visit Lake Michigan College, Michigan Career and Technical Institute, Stryker, and the culinary school at KVCC.
Gull Lake's Gateway Academy provides a personalized option for students not successful in other Gull Lake programs. They receive not just additional supports for their learning and life-skills but learn in a close family atmosphere.
Gull Lake's flexibility in educating students shows their commitment to personalizing education for every child. When asked which part of their innovation journey stands out to him, Chris Rundle said, "We're doing the correct thing for all kids and we're not going back. While innovation comes with its struggles, being an early adopter is rewarding as it's good for kids and families. I totally appreciate the support from Marsha, Lisa, and Mike. We wouldn't be as far down this road without EdTech Specialists." Starting the virtual school, partnership, and early college programs, and helping to build KRESA's Early College program were initiatives Chris also mentioned as highlights of their journey.
Gull Lake continues to move toward more personalized pathways for students. High school students did not turn in their devices at the end of the school year. Once they receive their computer in 9th grade, they will keep it until graduation. The Computer Science program will be expanding over the next two years. And, in 2017-18, virtual students will be receiving more support with staffed drop-in labs and additional online Gull Lake teachers. What is in store for Gull Lake's future? "Who knows?" was Chris' reply. "When we give students a chance to challenge themselves with rigorous options, they continually exceed our expectations."
Author: Lisa Sitkins, Consultant for EdTech Specialists, June 2017