A Learning Path for All
Lapeer Community Schools (LCS) is located in southeast Michigan just east of Flint. This suburban district is the largest of five school districts in Lapeer County. During the 2020-21 school year, LCS had an enrollment of just over 4,500 students. A variety of educational options are offered in the district at Lapeer High School (10th-12th grade), Zemmer Campus (8th and 9th grade), Rolland-Warner Middle School (6th and 7th grade), Center for Innovation/West Campus, four elementary schools (K-5th grade), Kids & Company Preschool & Childcare, and through the Lapeer Virtual Partnership (K-12). Regardless of which program option families choose, everyone is welcome at LCS. 
Like most districts around the state, Lapeer has experienced declining enrollment for many years due to a decrease in birth rates. Since 2008, Lapeer's enrollment has decreased by over 2,000 students. Superintendent Matt Wandrie has been leading the district for ten of these 13 years. Over his educational career, he has had roles in human resources, principalship, athletics, and teaching which have given him a foundation for his current position. Through years of budget cuts and closing facilities, Matt has worked tirelessly with his staff and the community to continue to provide quality options for families enrolled in LCS. Some of these programs are highlighted here.
Lapeer Virtual  Partnership
The district's Cramton Campus was originally an elementary school, then served as the alternative education site, and now houses the Lapeer Virtual Partnership (LVP). LVP offers families choice and flexibility in their student's education. Whether students need to catch up on classes, want to move ahead at a faster pace, prefer elective courses not offered on campus, or expect a personalized learning experience, LVP is available to them. From two online classes to a full schedule, the program is available to all K-12 students enrolled with Lapeer. Students receive support from Lapeer Virtual teachers, mentors, and staff who assist them both online and on campus. The students who enroll with LVP want to take responsibility for their own schedules and make educational choices that are important to them. 
In its eighth year, LVP is facilitating the education of K-12 students from Lapeer County and six neighboring counties. A variety of online curriculum is offered and students are assigned a mentor that they meet with weekly. High school students have the opportunity to enroll in courses to receive college credit with UM-Flint or Mott Community College in addition to receiving their high school credits. Students can also participate in robotics, Lapeer sports, graduation, and Swing Out (a parade through downtown where seniors wear their cap and gown). 
Some students take elective courses with LVP and their core at home. Others enroll full-time, complete their work at home, and come to campus for assistance and additional opportunities. One graduate started her own business while taking courses through LVP. Full-time students at LVP take six courses including four core and two electives. Homeschool students can take two to five elective courses. All students may add Optional Learning Experiences (OLEs) to any matching course. 
"The benefit of using a repurposed facility is that we have plenty of space for OLEs," shared Michon Periso, Director of LVP. OLEs offer academic enrichment to enhance student understanding of the online content. The Cramton Campus boasts a complete kitchen for culinary practice, biology and chemistry labs for experiments, an art room with a working kiln, a computer lab, a gymnasium where physical education skills are gained, and many classrooms. "Most of the OLEs we offer take place at the Cramton Campus, but there are a few that meet in the community," Periso explained. Any student enrolled with Lapeer Community Schools can take the optional learning experiences offered.
Lapeer High School
The 1,300 10th-12th grade students at Lapeer High School have advanced opportunities through the following programs. 
College on Campus
Lapeer students can take college courses from UM-Flint or Mott Community College and receive both high school and college credit. Many of these students are in Lapeer's Early College program. A shuttle bus takes students from the high school to Mott Community College where students can earn an associate degree in any program offered there. University of Michigan – Flint professors come to the high school to teach courses in engineering. The college credit or associate degree earned is saving Lapeer students thousands of dollars in higher education costs.
Career and Technical Education (CTE) Lab
In 2019, LCS received a Marshall Plan for Talent Innovation grant through The Great Lakes Advanced Manufacturing Consortium. Funds have been used to purchase industry-standard equipment, hire a CTE & Work-Based Program Supervisor, and provide industry-recognized credentials for students. Students learn to use FANUC, Stratasys, and Parker equipment to explore careers in CNC, 3D printing, and more. The hands-on programs offered through the CTE lab are in high-demand advanced manufacturing industries where students learn skills to enter the workforce at a living wage right out of high school. Students can choose from Machine Tool Technology and Robotics and Automation pathways.
AP Capstone Program
Students in 9th-12th grade have multiple AP classes available to take every year. The district administers 650-700 AP tests each spring. While many Michigan high schools have AP courses, Lapeer offers their students an advanced option, the AP Capstone Program. 
Eight years ago, Lapeer was one of 26 districts in the state to offer the AP Capstone Program. In addition to taking AP courses, students in the AP Capstone Program take an AP Seminar and an AP Research course over two years. These two courses count as a language arts credit so a student could essentially take all AP courses for their language arts credits while in high school. In the two courses, students develop critical thinking, research, collaboration, time management, and presentation skills that will help them with all AP and college courses as well as in their future careers. 
Students can earn an AP Capstone Diploma™ and/or an AP Seminar and Research Certificate™ from the College Board based on their performance on their AP exams. To receive the AP Capstone Diploma, a student must receive a score of 3 or higher on four AP exams as well as the AP Seminar and AP Research exams. In 2018, three students from Lapeer received AP National Scholar Awards which means they received an average score of at least 4 on all AP Exams taken and scored 4 or higher on eight or more of the exams.
Aryanna, one student who received this distinction as a junior, shared that she enjoyed the AP Capstone Program because there was a lot of discussion in groups, and it helped her hone her presentation and writing skills. "It has taken the nerves out of college," she said. In addition to the AP National Scholar Award, Aryanna is also a National Merit Semi-Finalist Scholar. 
"Students used to strive for the University of Michigan or other in-state colleges as the "best" school they could get into," shared Doug Lindsay, Principal at Lapeer High School. "But because of the AP Capstone Program, they are now looking at and going to places like John Hopkins, Oregon, Purdue, Georgia Tech, and Loyola."  
L12 Capstone Program
Seniors choosing not to take the AP Capstone course for 12th grade Language Arts credit sign up for the L12 Capstone course. This program focuses on the skills needed for the workplace including teamwork, creativity, problem-solving, technology, and time management. The course is structured in a project-based, blended learning format where the students progressively take more individual responsibility for their projects. Many students complete the program with an internship or community-based project. 
Year-Round Schooling Options
For students in grades K-8, families have the choice between two school calendars; traditional and year-round. Lapeer's balanced calendar, i.e., year-round, has a shorter summer and more frequent breaks. The year-round calendar begins at the end of July and has slightly different breaks than the traditional calendar but finishes the year at the same time. Students still attend 180 days. 
Since 2012, Turrill Elementary School has been operating on a year-round basis. It is the largest of the elementary schools in Lapeer, and the only one not considered a neighborhood school as most students ride the bus to attend. Parents appreciate the opportunity to make the decision of year-round school for their child as shown by the waiting list Turrill maintains. Not only does it provide options for parents, teachers also make the decision to teach on this schedule. 
Students enroll in one of the five elementary schools in the district and most often stay at that school for their entire elementary years. While the schedule may be different at Turrill, the learning environment is the same as in the other buildings. As a comprehensive K-5 building, students are assigned teachers by grade level and specials teachers are shared between the five elementary schools. The difference at Turrill is the intersessions that take place during their breaks in October, February, and March. Each intercession has a theme, is taught by a lead teacher/coordinator, and has an affordable tuition rate for the week. 
Running two separate calendars in a district can be a scheduling nightmare, but according to Scott Warren, principal at Turrill Elementary, "the value embedded in the options we offer families is worth it." 
Students in 6th and 7th grades have the option to attend Rolland-Warner 6-7 Campus on the balanced calendar. The middle school differs from Turrill in that the model is a school-within-a-school rather than school-wide. The actual days they attend may be different, but year-round middle school students follow the same expectations as all other middle school students. They can also participate in extracurriculars with students on the traditional calendar.
Year-round School:
Same number of days (180)  |  More frequent breaks  |  Additional support options during intercessions (breaks)
Project Lead the Way
The middle-level Project Lead the Way (PLTW) program offers robust programming for students in 6th and 7th grade at the Rolland-Warner campus, and 8th grade at Zemmer campus. This student-centered curriculum focuses on activities and projects where students lead their own learning as they identify problems and find solutions. PLTW classes include Automation and Robotics, Design and Modeling, Medical Detectives, Flight and Space, Computer Science for Innovators and Makers, and App Creators. "With the PLTW curriculum teachers assume more of a facilitator role and guide students through problem-based learning experiences," said Jaime Hofert, STEM Program Coordinator with Lapeer. As they collaborate in groups, students apply what they are learning and demonstrate that learning through unique ways. One way is through the Rube Goldberg project. Every December, more than 200 sixth- and seventh-graders plan their section of a massive Rube Goldberg project. They then have five days to build with their group, using what they know about potential energy, kinetic energy, energy transfer, criteria, constraints and project management. On Launch Day, the entire Rube Goldberg challenge is demonstrated from beginning to end. 
Ricky Eddie, a 2020 graduate, who took PLTW classes in middle school shared that the Rube Goldberg project was his favorite. While it was challenging, he shared, "I gained confidence in talking to adults, made a lot of friends, and learned a lot." Students learn teamwork, communication, and collaboration skills through the PLTW program.
Center for Innovation Campus
In 2014, the former Lapeer West High School reopened its doors as the Center for Innovation (CFI), also known as West Campus. This unique building houses their Community High School and Robotics programs. The Young Musicians Community band and a Senior Walking program also use the building.
Community High School
Community High School, Lapeer's alternative education program, combines direct instruction with online courses so students can choose to attend morning or afternoon. Students have weekly credit checks with a counselor and are connected with a mentor who helps them with their online courses. A Dropout Prevention Coordinator is available on staff for additional support. When students are not at CFI, they attend the ISD EdTech Center, work, take care of younger siblings or children, or assist with family obligations. Community High School's space at CFI meets the needs of the students with a Focus Room, an On-Target Room, and a Lounge.
Robotics Programs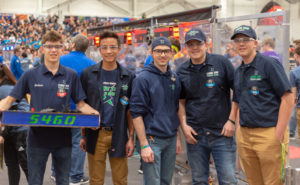 Every building on campus has some STEM focus for learning. Baker College donated $116,000 worth of advanced manufacturing equipment to the district's Science, Technology, Engineering and Math (STEM) program. This equipment, along with additional purchases from a Marshall grant, "broadens the scope of experiential training we can offer our students," explained Jaime Hofert. Baker College had previously provided CNC training at CFI for Lapeer students.
Robotics is a K-12 after-school program at Lapeer. Students get some exposure to robotics through VEX IQ kits and have the opportunity to join one of two Lapeer VEX® IQ teams. Other competitive robotics teams at Lapeer include Jr. FIRST® Lego League, FIRST® Lego League, FIRST® Tech Challenge, VEX® EDR, and FIRST® Robotics Competition (FRC).  
The two FRC Lapeer robotics teams call the Center for Innovation home. The Chimeras – Team 1684 and Strike Zone – Team 5460 each have their own lab space (i.e., room) to prepare for competitions. High school students who attend Lapeer schools and area homeschoolers make up the teams. 
While the team goal is to build the best robot to win competitions, FRC students learn so much more through their involvement. All the roles needed to accomplish their goal are similar to those of running a business. In addition to engineering and programming skills, students learn teamwork, organization, time management, leadership, marketing, and accounting. During competition season there are also roles for game strategists, promotion, safety management, and scouting other teams. 
In the off-season, students have the opportunity to participate in events like the annual ROBO-CON Festival, demonstrate robots to various groups, mentor younger students, help with fundraising, recruit new members, create promotional materials, and of course, work on improving their robot.
The FRC teams are active 10-11 months a year with the FIRST® Robotics Competition season taking place January through April. After a live announcement of the year's game criteria, students have six weeks to design, build, and perfect their robot for competition. During the process, students are assisted by professionals from the community, colleges, and universities in an apprentice-type relationship. Competition season is exciting, loud, and fun. Michigan, in general, dominates robotics globally and both teams have qualified to compete against teams from around the world in the FIRST® Robotics World Championship two years in a row.
Community Uses
The nonprofit Young Musicians Community sponsors a free after-school program for students interested in learning to play in a rock band. Through the family atmosphere of 3rd Degree Burns Band, students gain self-esteem, learn to accept all people, and become a part of something bigger than themselves. In addition to the three degrees of band membership, a host of volunteers make the program possible. The band performs most weekends during the summer and for other events throughout the year.
CFI is a large, sprawling building with wide hallways that form a square. During the winter months and inclement weather, the halls are often used by the community's senior citizens for exercise. 
Outdoor Education Campus
Lapeer Community Schools owns an 80-acre outdoor education site called Skinner Lake Campus which is used for science learning. In addition to two ponds and Skinner Lake access, the grounds also boast a forest overlook, pavilion, fire pit, and building which houses a lab. Students have access to snowshoes and Garmins. Outdoor Education Coordinator, Beth Rupprecht, assists teachers in writing curriculum and supporting teachers as they bring their students to the property. First-grade students observe wildlife and build habitats on the property while fifth-grade students study the ecosystems, forest floors, wetlands, and transition zones. The lab is used to examine specimens they collect. Third-grade students study the wetlands and the various types of trees that are abundant on the property. As the AP Environmental class works on projects throughout the year, they spend one day a month gathering data out at the campus. Year-end projects are presented in the pavilion. In addition to classes using the campus, K-9 units use it to train their dogs and the DNR is managing their forest. This property offers unlimited potential for unique LCS programming.
Even in a time of declining enrollment, Lapeer Community Schools strives to offer a variety of quality learning options to their families. Students have the ability to make "where, when, and how" choices as they are challenged to become learners in an environment that meets their needs. Whether in a building, at home, or in the community, students receive support for their chosen learning path.
Author: Lisa Sitkins, President and CEO, LSS Connections and Consulting, LLC, November 2021