Inspiring Student Success and Empowering Leaders
From preschool to eighth grade I attended a traditional public school. The time I spent there was very routine. Every weekday when I woke up and went through the motions of life, I traded comfort for spontaneity on a daily basis. I stayed within the lines of a picture that was shaping up to look like a regular suburban childhood at the turn of the millennium. I was happy, yet unsatisfied. At first I thought that the answer to my problem was a more challenging academic environment, but I really wanted a more exciting life environment. So in the same way that I declined the idea of living the regular life of my peers, I declined an invitation to attend the International Academy of Macomb. Then I discovered Academy 21.

I'm not sure what I was expecting the first time I walked through those green doors on the first day of my ninth grade school year. I just knew that I wanted something different. I wanted to work at my own pace and in a way that was a best fit for me. I wanted a school environment that was welcoming and comfortable. I wanted to break out of the mold that was every day and fall in love with learning all over again. Academy 21 has given me all of that and more.

With Academy 21, my classroom doesn't just consist of four walls. The world is my classroom. English class isn't just sitting at a desk and writing a paper. Sometimes English class means sitting under a tree at Greenfield Village reading To Kill a Mockingbird, then wandering through houses similar to the one Scout and Jem might have lived in. History class isn't just watching a teacher point at a map or a globe. Sometimes it means studying the Renaissance Era at a café in the Detroit Institute of Art, and then observing paintings made during that time period. Academy 21 gives me the opportunity to spend time going on adventures and exploring the world around me while still being able to work towards graduation. It gives me the opportunity to spend more time with my younger brothers and sisters. It gives me and so many other students the opportunity to have experiences we would not have been able to have otherwise.

I can say, without a doubt, that I absolutely love my school. All of my teachers are caring, kind, and helpful. They love and accept every one of their students. They set high expectations for us and help us reach them. They tailor our education to fit each of our needs to maximize success. At Academy 21 we are a family. We are a family that learns, but most importantly we are a family that loves. I may not have known what to expect when I came here, but every day I become more amazed by what I have received here, and would not have received at a traditional school. 

~Lilianna Micola
Center Line Public Schools provides all students relevant and challenging learning experiences to inspire success and empower them to be the leaders of tomorrow. The above story is just one example in which Center Line Public Schools personalizes learning for every student in the district. Because education is personalization to fit each individual's needs, students like Lilianna are inspired to learn, to lead, and to be successful. From early childhood education to college and career readiness and education beyond high school, Center Line provides a multitude of options for students to get an education in the manner that best suits their needs.
Who Is Center Line Public Schools?
Center Line Public Schools (CLPS) is in Macomb County, which lies in the southeastern part of Michigan just outside the city of Detroit. The city of Center Line is just 1.74 square miles and is surrounded by the city of Warren. This urban city's crime rate is higher than the U.S. average and the unemployment rate is higher than the average city in Michigan. In 2015-16, CLPS's enrollment was 2,647 students, with 65% receiving free and reduced lunch and 69% coming from economically disadvantaged homes. While these statistics look grim, the staff at Center Line Public Schools believes in the potential of every student and takes action to help them reach that potential. They know that in order to learn, students must feel safe, full, and loved. CLPS has created wrap-around services for their students by partnering with local organizations and businesses to provide support for their families. The district employs school psychologists, speech and language providers, teacher consultants, and school social workers. This staff works with a host of community businesses and organizations to assist families with needs outside of school. The Community Resource page on the district website lists resources for parents to access. For the past five years, the district has held a CLPS community picnic for families and staff prior to the start of school. The 2016 picnic included a ribbon cutting ceremony to celebrate the Center Line High School Academies (more information about the Academies is below).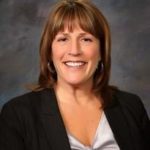 Eve Kaltz retired as the superintendent of Center Line Public Schools in 2020. During her tenure, she has consistently been an advocate for putting students first. The commitment to serve every child led to a quest for the best virtual program to serve students who were not experiencing success in the traditional school environment.  Eve traveled from lab to lab throughout the state to speak with students and learn more about the programs offered. "The decision was made to take the best of what was seen and create our own version of virtual learning with the most important part being the hiring of kind, compassionate, and outstanding educators. With the assistance of a tremendous man hired through EdTech Specialists, Academy 21 was launched." The virtual learning staff serves over 200 students each year and celebrated over 20 graduates in 2016 alone. Mrs. Kaltz also recognized another group of underserved youth in the homeschooled population. Moving into the third year of their homeschool partnership, numbers enrolled have swelled to over 300!
From her communication to her actions, Mrs. Kaltz's heart is in Center Line. She graduated from Center Line High School in 1978, married her high school sweetheart in 1981, and was hired to teach in Center Line in 1987. "I always believed I would come back to serve my hometown. My father owned a business in Center Line for 32 years until his death, and my mom was a teacher and an administrator in Center Line Schools." Kaltz said. "I love this small community with a big heart. The people here are generous, involved in the school system, and appreciative of the work done to provide the best opportunities for their children."  Eve has served as a teacher, learning consultant, principal, curriculum director, and currently superintendent. Every district decision made by Kaltz is for the kids and the community.
Personalizing Education at Center Line Public Schools
Personalized education begins at an early age at the CLPS Early Childhood Center, home of LADD (Learning Academy for Development and Discovery). Center Line Public School programs provided here include early childhood education, a Homeschool Partnership, and a community enrichment program.
Early Childhood
The CLPS Early Childhood/Pre-K program personalizes learning for all students. Whole and small group instruction time maximizes student engagement and success, and instruction focuses on each child's interest through student-led play, exploration, and inquiry. Creative Curriculum, which uses the latest research and best practices in early childhood education, is implemented in the district. Students get to choose from 10 areas of interest each day. Kaltz said, "Engagement and facilitating a love for learning must begin with our youngest. We hire the best teachers and they create an environment where this happens for our little ones."  All pre-K students are welcome at CLPS including students needing financial assistance or special education services. Center Line also participates in Great Start to Quality to continually improve their early childhood/pre-K program. Future leaders are getting an educational advantage by participating in this Center Line program.
Homeschool Partnership
The Center Line Homeschool Partnership is a collaboration between parents, the community, and Center Line Public Schools. Parents are an integral part of the program as they stay at the partnership building, in the parent/family room, while their child is in class. Once at home, they reinforce lessons learned at school. Businesses and individuals from the community share their expertise and knowledge as well as provide resources and support to the program. Center Line Public Schools designates building space, hires caring staff, and allows freedom for students to explore, learn, and innovate. The partnership facilities include five classrooms, two music classrooms, a study room, and a family room. "It's a true partnership between the school and families." remarked Kim Chambers, Director of the Homeschool Partnership. "It has provided more opportunities for all kids. Students take dual enrollment courses or enroll in CLPS's Academy 21, FANUC Robotics, or EMT programs, and traditional students take some of the partnership electives."
"One day I was visiting the partnership and a group of students ranging in age from 6 to 16 came to me excited about their hovercraft. I followed them into the exploration room where three of them climbed onto a wooden disk and took a spin around the classroom! The students explained that their teacher had brought in a box of "stuff" after they had explored and learned about how air is trapped beneath the craft which allow the wooden disk to float on top of it! They explored the box of goodies as their teacher led them through learning about each item. The final result of the work was the hovercraft." ~Eve Kaltz
When students have the freedom to take courses in which there is a personal interest, excitement, engagement, and success follow. A personalized program is offered to each child whether it is in the building, online, or in the community. In addition to the above courses/programs, students in grades 1-12 can take elective courses such as 3D printing, foreign language, robotics, and non-traditional music, art, and physical education. One student in the building arts (woodworking) class built her own loft bed while other students have cooked meals for their families at home after taking a seasonal foods or traditional cooking class. A new class being offered this year is an outdoor education course where students will learn problem-solving and survival skills. Community explorations days are provided monthly to explore a variety of interests and experiences in and around the local area. Students in this child-centered program have the flexibility to work with other students of all ages to explore their interests and build deeper understanding of the world around them.
Once a student enrolls in the homeschool program, a mentor is assigned to them for the year. Each week the mentor contacts the student to talk about their courses, and often the mentor meets the student in one their classes to observe them. As the program has grown over the past three years, the CLPS Homeschool Partnership has moved from paper registration to a Google form to using ACTIVE Network registration software. Similar to traditional school, students register at the beginning of the year and then again in December for second semester. Unlike traditional school, courses can be run with low enrollment (at least five or more students), allowing for that personalized learning to take place. On average, students take four classes each semester. To decide courses to offer, Chambers walks around at least twice per semester to get feedback about the courses currently being offered. Parents and kids also regularly come to her with suggestions. "Parent and students love this format for school. It's like being part of large family. There are all types of races, religions, and homeschool philosophies, yet we have a common bond in being homeschool families. Students look forward to coming to school and so do their parents."
Elementary and Middle Schools
Students in the three elementary schools and the middle school can personalize their learning by taking elective courses through the CLPS Homeschool Partnership or online. In addition to these options, Roose Elementary students can sign up for the CLIMb program. This multi-age classroom is a gifted program for 9- to 11-year-olds who stay with their teacher for two years. The focus is on the whole child as an inquirer. Elective options at Wolfe Middle School include traditional options such as band, art, music, computers, PE/health, drama, and world language, but also include Lego Robotics, and advanced language arts and accelerated math for 6th and 7th graders.
Hybrid School
Personalization for some Center Line students includes online courses. All students K-12 have the option to take online classes whether they take one or two courses or all their classes online. Academy 21 (AC21), the program Lilianna attended, is a hybrid high school where students take courses online but come to the school facility for assistance and to take exams. This blended model provides students flexibility, choice, and support when needed. AC21 is housed in a wing of the administration building. Highly-qualified, hand-selected teachers are available daily to assist students both online and in a classroom. Online content is provided through Compass, Odysseyware, and Plato with teachers providing additional resources when students are struggling. Each student is assigned a teacher-mentor who connects with the student at least once a week via email, calls, texts, and software messaging. Most often teacher-mentors and students will communicate multiple times throughout the week as the students work on their classes. The curriculum is customizable as students can take both core and elective courses, including Job Skills, Career Management, Business Law, Gothic Literature: Monster stories, Fundamentals of Digital Media, Real World Parenting, and Veterinary Science. Prior to enrolling with Academy 21, the student and parents discuss their educational options with Center Line staff to determine if online/blended education is right for the student. The AC21 2016 graduates in this video are thankful to Center Line Public Schools for making this hybrid option available to them.
Wall-to-Wall Academies
Personalization is front and center at Center Line High School. Forty members of the Strategic Planning Committee, representing all stakeholders, committed to a goal that all students who leave Center Line High School will have college credits and/or an industry recognized certification. To make this a reality, every high school student will participate in an academy at CLHS. The wall-to-wall academies are designed to help every student experience a relevant, rigorous, and relationship focused program of study. Kaltz stated, "Research has always pointed to relationships as the greatest factor for student success, and we have found a way to take a small number of staff and wrap them around a small group of students, all while immersing students in career exploration and opportunities. We believe that this is a recipe for success for all of our kids."  In these career academies, backed by Ford Next Generation Learning, students will be able to study a pathway of their personal interest, develop 21st century workplace skills, and apply the skills and concepts they learn with community partners to their future careers. Due to the relevance and rigor associated with wall-to-wall academies, students graduate with options – enter the workforce with skills, articulate into a community college, or go on to college for advanced study (often with credits). Wall-to-wall academies have been successful in metro areas of Tennessee, California, and Florida.
Three academies are available to students: 9th Grade Academy, Academy of Industry, Technology and Innovation (ITI), and Academy of Health and Human Services (HHS). Ninth-graders are in small learning communities with a team of teachers and explore their passions, talents, and interests to determine which field they would like to study. During 9th grade, students discover what they enjoy and determine the skills where they excel so that they can choose one of the other two academies to begin their 10th grade year. In addition to career exploration activities, students will engage with guest speakers, visit colleges, and interact with professionals in their field of interest throughout their high school career.

Some of the pathways students choose in the Academy of Health and Human Services (HHS) include Public Service, Law and Justice, Firefighting and First Responders. The goal of the Public Service pathway is to motivate students to be better citizens. Over 130 students enroll in this public service pathway and take part in the JROTC program that is also a career and technical program at Center Line and the only Army JROTC program in Macomb County. The curriculum is supplied by the Department of Defense supported by the State Approved Standards. Coursework focuses on leadership and includes conflict resolution, civics, geography/global awareness, health/wellness, language arts, life skills, and U.S. history. Students in this pathway take one JROTC class each year, wear their uniforms on Wednesdays, and have the opportunity to participate in a variety of events such as JLAB (JROTC Leadership Challenge and Academic Bowl), drill competitions, and summer camps.
A fully functional police car is parked in the Law Enforcement classroom and is used for different portions of the curriculum. Over the years, Robert Plotzke has developed the curriculum for the classes in the pathway. The first unit of the year is Crime Scene Investigation (CSI) which gets students outside and excites them about the program through its engaging nature. Curriculum also includes traffic stops, handcuffing, suspect interviews, and report writing. Cultivating diversity is an important component throughout the classes and lessons include students teaching one another. While this program has been at CLHS for 15-20 years, the adoption of academies has strengthened it as core courses now support the content. Students compete in law enforcement competitions and have won six regional trophies since 2008. A law enforcement certification is not yet available, but students can earn college credit at Ferris State University and Macomb Community College.
In the First Responders Pathway, students in the Emergency Medical Service (EMS) course have the opportunity to practice on dummies in the hallway and drive the fully functional ambulance. The approximately 90 students enrolled in the 10th grade pathway course, Introduction to Health Careers, are led by a teacher who has previously taught at the college level. Students who are in 12th grade and are 18 years old can take the certification test to become a Medical First Responder after completing the required pathway courses.
The Firefighting Pathway is a double-block class. Similar to the Law Enforcement and EMS programs, a fire truck is part of the classroom decor. In addition to learning the skills needed to be a firefighter, students also get involved in the community. One way is through the smoke detector project. Students, along with a firefighter, spend a Saturday going door-to-door to hand out flyers with information about home fires and smoke detectors. During their visits they also replace smoke detectors and/or their batteries, a gesture the elderly and handicapped appreciate. In 2016-17, 614 homes were visited and 180 batteries or detectors were replaced. While this is laudable for the second year of the project, the goal is to reach every home in Center Line. Batteries and smoke detectors are donated by local businesses, and students fundraise to purchase additional units. Prior to this community project, students go through a series of meetings to let authoritative bodies know what they will be doing. With their teacher, who is still a volunteer firefighter, they meet with the police chief, the school board, and the city council.
Students at the school also have opportunities to attend pathways at nearby schools.  For example, the cosmetology program is offered later in the day as it is a four credit class and students attend until 5:30 pm. This course is held at Warren Woods which is a part of the four district consortium that Center Line High School is a part of.  A psychology class will be added to the HHS Academy next year to enhance the program of study for the HHS Pathways.
Each academy chooses a semester theme as the focus for student engagement. The Academy of Industry, Technology, and Innovation (ITI) theme for spring 2017 was The Future of Mobility. Throughout the semester, students designed and developed a project around their ideas of mobility in the future. This application or focus has helped students see a purpose for their learning. Michelle Keeran, art teacher in the ITI Academy, has noticed that "students in ITI are more connected to their learning than when art was just a general education credit in their schedule." The HHS Academy's spring 2017 theme was Mass Casualty Simulation.
In the ITI Academy, students also have the opportunity to learn offset printing, web design, and FANUC robotics programming (see Business Partnerships). Students interested in business can take courses in marketing, accounting, and business management. Engineering classes are offered across the hall from the business courses. AP and vocational (career tech) courses such as culinary and automotive are offered at other school districts within the consortium, and students are bussed to those schools.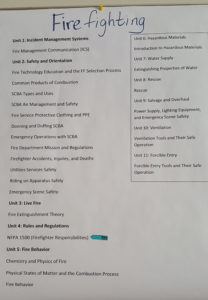 A career day at Baker College opens the eyes of 10th graders to jobs within their chosen pathway. In both academies, students have the ability to change their pathway between 10th and 11th grade, but must make up the 10th grade pathway class they missed. Tenth grade students interviewed shared how they like this format for school. They see a connection between what they want to be and what they are learning. Knowledge is acquired through contextualized instruction which is then applied out in the work place.  Soft skills are intentionally taught and practiced both in mock interviews with business partners and also in the work place.  Approximately 100 students from other districts choose Center Line High School because of their academy programs.
According to Andrea Szabo, High School Principal, "The educational mindset of the building has changed since we went to wall-to-wall academies." A teacher workspace, separate from the teacher lunch room, has been created in each of the academies where all academy teachers meet every Wednesday and in smaller groups on their own. "I've seen more collaborating in the last six months [since CLHS started wall-to-wall academies] than I have in the 20+ years I've been teaching," said Steve Sheardown, teacher leader for the ITI Academy. There is better communication, not only amongst the staff, but also with the community. Members of the community visit the high school and want to know how they can help. Rich Varney, School-Business Liaison, shared, "Businesses and the city want to be part of this."
Business Partnership
A unique experience for CLPS students interested in exploring the field of automated technologies is the FANUC Robotics class. Students explore robotics, sensor technology, AC and DC electronics, pneumatics, programmable logic control, and computer logic. They also receive hands on training using state-of-the-industry trainers. Anyone who successfully completes the course requirements and passes the FANUC Robotics certification will earn a programmer and operator certificate recognized by employers worldwide. Students with this certificate can secure a high paying job right out of high school.
Rising Stars Academy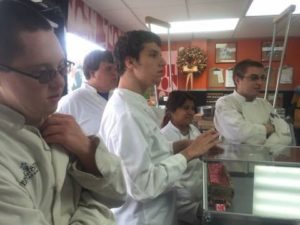 Center Line continues to focus on personalizing education for students even after graduation. Students who exited high school with a Certificate of Completion can further their education with Rising Stars Academy (RSA). RSA's mission is to provide learning for all students to achieve success in school, the workplace, and life. This partnership between Center Line Public Schools and Rising Stars Academy promotes the educational development of students ages 18-26 with learning disabilities. While the program is rooted in the culinary arts, a diverse curriculum is offered. Students can take courses in personal finance, career preparation workshops, woodworking and home economics, bicycle engineering, and more. The extensive culinary program includes "Farm to Plate" where students grow, harvest, store, prepare, and serve the food. RSA has a cafe kitchen and restaurant in the building it leases from Center Line. The program includes an internship that students can complete in the RSA cafe or with off-site training partners that include Henry Ford Healthcare, St. Patrick's Church, and Crest Ford. Other community partners at Rising Stars Academy include Farm & Garden, Mr. Clean Team, Bicycle Repair Retail, and Back Alley Bikes. Students gain skills they will need in life such as interpersonal and employment skills throughout curriculum with a goal of being gainfully employed by the end of the program.
The opportunities offered at Center Line Public Schools allow students to personalize their learning. The programs focus on giving students choice in their education and providing guidance and direction to help students fulfill their goals. This personalization, along with caring staff, inspires students to work toward success which in turn builds the leaders of tomorrow. While CLPS cannot control the environment that surrounds the district, it does provide a safe haven for students to explore, learn, succeed, and lead.
Author: Lisa Sitkins, Consultant for EdTech Specialists, November 2016 [Updated May 2017]