The Power of Moments
by Chip Heath and Dan Heath
---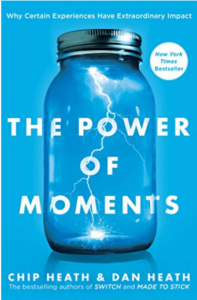 How do we create more moments that matter?
In
The Power of Moments: Why Certain Experiences Have Extraordinary Impact
, the authors claim that our most memorable positive moments are dominated by elevation, insight, pride, and connection. Join us as we explore these elements and learn how to create more memorable moments for others. This book discussion is a low-stakes event (i.e., join in anytime, even if you didn't have time to read). It's also free to join.
Order The Power of Moment on Amazon
Schedule
All dates meet at 4:00 pm ET
| DATE | DISCUSSION |
| --- | --- |
| October 2021 | Book Club Kick-off and Introductions |
| November 2021 | Chapters – Discussion Questions TBD |
| January 2022 | Chapters – Discussion Questions TBD |
| February 2022 | Chapters – Discussion Questions TBD |
| March 2022 | Chapters – Discussion Questions TBD |
| April 2022 | Chapters – Discussion Questions TBD |