From Reopen to Reinvent
by Michael B. Horn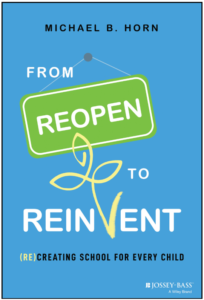 How can we reinvent the current system of education?
In From Reopen to Reinvent: (Re)Creating School for Every Child, author Michael B. Horn challenges us to overthrow our existing education system and replace it with one that meets the needs of all students. During our meetings we will discuss concepts presented in the book, share our experiences, and talk about steps we want to take to move our education system forward. This book discussion is a low-stakes event (i.e., join in anytime, even if you didn't have time to read). Register to receive the Zoom link to participate. 
Order From Reopen to Reinvent on Amazon
Schedule
All dates meet at 4:00 pm Eastern Time Zone
DATE
DISCUSSION
September 29, 2022
Book Club Kick-off/Introductions

Who is curious about disrupting the current education system? How are others already reinventing school? What is this book about? In this first meeting of our book club, we will spend time meeting one another and why we want to read this book. We'll also spend a little time discussing the introduction of From Reopen to Reinvent.

October 27, 2022
Chapters 1-3

How can we reframe the predicament the pandemic has caused as an opportunity to change K-12 education? What is the purpose of schooling? How can we define our scope to successfully fulfill our purpose? We'll begin with these questions as we reflect, discuss, and challenge our thoughts about school and education.

January 4, 2023
Chapters 4-6

Is learning loss a real thing? Can we create a system that guarantees mastery for all students? How can we restructure teaching to be more team oriented? In this discussion, we'll focus on the student and educator experiences, and talk about how changes to teaching and learning can bring joy back into education.

March 21, 2023
Chapters 7-9

How can we design schools to fit into the progress parents desire? Is technology necessary for student learning and success? How can we build the right culture so students and families are confident of our shared priorities? Our conversation will include the parent perspective for schooling and how our cultures drive our relationship with them. We'll also discuss the role technology plays in student success.

June 7, 2023
Chapters 10-12

How can we help educators think of planning as a process that is all about learning? What can we do when people don't agree about educational changes? What steps can you take in your role to reinvent school? Our discussion will focus around actions you would like to take to create schools of the future where all students make progress.