On the Journey to Personalization
It is often said that education is broken. What if it's not broken, but lost? What if the journey that was once clearly mapped out has now become tattered and unreadable? What if a new map was created to guide learning for all students? Districts across the United States are doing this, but not with just one map. They are creating personalized learning journeys for every student. In order for this to occur, districts must go through their own journey to personalization.
Alpena Public Schools (APS) is one of those districts seeking personalization for all their students. For the past two years, Dr. John VanWagoner has been leading the district on this journey. The District's vision is that every student who enrolls in APS will learn in a manner that works for them. "Our goal is that every student is able to make a choice in how they want to learn." shared Dr. VanWagoner. Whether it be project-based learning, online learning, classroom instruction, independent study or a combination of these, students will direct their education journey.
Prior to his superintendency with APS, John was an Associate Superintendent with Shiawassee RESD. He has worked in education for over 20 years as a high school teacher, administrator, instructional specialist, high school redesign manager, and legislative liaison for the Michigan Department of Education. His career journey has provided him with experience and insight into the varying ways in which students are successful, qualifying him to direct the district's journey to more competency-based, personalized learning.
Dr. VanWagoner has been resourceful as he guides the district along their journey to personalization. In an effort to bring more devices into the district at minimal cost, he and other administrators purchased 600 Chromebooks during Black Friday and other promotional deals. To pilot collaborative workstations at the middle school, he asked the high school Woodworking Tech class to build them, saving the district thousands of dollars. He was also successful in obtaining a Competency-Based Education Pilot Grant which is being used to provide professional development opportunities for teachers to learn how to design and implement personalized learning.
Before receiving the grant, the district had already invested in Michigan Virtual's Blended Learning training for the sixth-grade staff. Now with the $50,000 grant, professional development (PD) opportunities are available for teachers to learn about competency-based education (CBE) and personalization. Fifteen teachers participated in CBE PD throughout the summer. Some attended the InnovationEdLab 2018 in Lansing where they explored and expanded their knowledge of competency-based education during the one-day event. Teachers and administration participated in a three-day intensive competency-based learning workshop in southeast Michigan. In addition to exploring competency-based learning during this workshop, participants began planning their CBE model for APS. Some Alpena teachers and administrators also visited a Wisconsin school district to observe a best practice CBE district in action. Lastly this summer, APS staff attended the Michigan CoOp Summer Conference where they network with other districts who are on their own CBE journeys. The purpose behind all this professional development is to give teachers and staff time to learn about competency-based education and grasp what needs to be done so they can personalize learning for all students in the district.
The Journey Begins
While additional professional development is offered during the school year, movement along APS's personalization journey has already begun. The school year 2018-19 ushered in new learning options for APS students. In the Fall of 2018 1:1 devices for the entire 6th grade, all 280 students, was piloted. But it's more than just putting a device in every students' hand. The 6th-grade teachers have completed the Michigan Virtual Blended Learning professional development and have prepared for a blended environment. Students work through some of the content individually on their devices at their own pace and level. There is time set aside to meet as a whole group with a teacher, and the teachers spend more time in small groups working with struggling or excelling students. Students may also bring their devices home to continue their learning. Throughout this pilot, the district will evaluate student achievement using the blended model.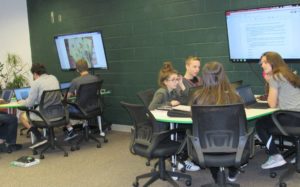 Some 8th-grade students will experience an introduction to project-based learning in 2018-19 for English and Social Studies as these teachers collaborate together. During the 2017-18 school year, two Social Studies classes worked collaboratively in a PBL model, often in the library where the Woodworking Tech collaborative workstations are housed. The teachers stated the benefits of this format are more connections and better relationships between teachers and students, and that students can work with students in another class. More option for personalized learning is occurring at the middle school as these PBL classes continue.
At the high school, an Algebra II blended learning class. Thirty APS high school students have signed up to take Algebra II in a combined online and face-to-face format. Three days are spent in the classroom with the teacher. On the other two days, students will have the freedom to learn where and how they want whether it be with the teacher in the classroom, in the library with a partner, or at home. This learning option was piloted during 2017-18 and was deemed successful to offer again.
Another option is a 9th-grade project-based learning (PBL) school-within-a-school. The 120 students enrolled are using a project-based learning and design model. The projects are ongoing throughout the year and focus on answering or solving a real-world problem/need for a community partner. As the groups of four work together, they are learning relevant content, using 21st-century skills, and developing personal success skills. Teachers do not direct the projects, but rather help students move from problem recognition stage to presentation of their solution to the community partner. All students received a Chromebook to manage their projects which includes obtaining information, collaborating with group members, communicating with teachers and experts, and demonstrating their learning. Students will remain together during their 9th and 10th-grade years. When these students move into 11th grade they will begin a more independent study format where they can study an area of interest in more depth through a competency-based learning format. This program will be evaluated each year with the vision to move personalized learning into lower grades in the future. 
We are very excited to have our students learn in a cross-curricular, project-based format trying to solve real-world problems. ~Superintendent John VanWagoner
The Alpena Family Partnership is another personalized program option which began in 2018-19. The Partnership offers non-essential courses to K-13 homeschooled students. Jen Meyers, an Alpena Public Schools teacher, and previous homeschool mom, directs the program. She is also the lead teacher, working alongside community experts and other certified teachers. Classes take place online and meet one day a week at Sunset Center, which was closed seven years ago, or at various businesses throughout the community.
While online learning has been part of Alpena's program offerings since 2013, 2018-19 began a pilot in their ACES Academy (Alternative Choices for Educational Success) program. Four days are spent learning in a blended environment (online and face-to-face). On the fifth day, students work in the community (see the Community Support section below). All students have their own device at school to access content and complete work. Rather than using online vendor teachers as the Teacher of Record, ACES instructors have taken on that role, giving students a familiar face for their online experience. Often times online students don't realize there is a physical teacher attached to their online class. ACES students have the ability to meet face-to-face with their online teachers when needed as well as complete work in the virtual setting on their own.
ACES is just one group of students that use Alpena's online course offerings. Students looking to fit in a class, want to work at their own pace, or want an alternative to the traditional model of learning find it at APS Online. From one course to full-time online, students who enroll with APS Online are assigned a mentor. They can also receive tutoring support at Alpena High School, ACES Academy, Thunder Bay Junior High, and online through Brainfuse.com (courtesy of the Alpena County Library). Over 15% of all high school students at APS take an online course and about 40 students are enrolled full-time.
CTE Personalized Options
Alpena's career-tech education (CTE) programs are housed in the 52-year old high school rather than an ISD skills center. Students who enroll in CTE programs receive hands-on, often project-based, learning experiences that fit their interests. CTE programs at APS include Agriscience and Natural Resources, Automotive, Business and Marketing, Health Occupations, Construction Technology, Manufacturing, and Welding. About one-third of the high school student population enrolls in a CTE class. Students receive college credit through Alpena Community College (ACC) for their classes because all CTE teachers are adjunct faculty for the college.
Joyce McCoy, CTE Director, is no stranger to the district. She retired from the district after 45 years working as a home economics and culinary arts teacher, elementary school principal, junior high principal, and curriculum director. She returned to the district in 2018 to rejuvenate the CTE programs. The district does not receive a CTE millage but finances the CTE programs, along with Early College and dual enrollment, through multiple sources. One of the sources was a $400,000 competitive grant that APS used to purchase equipment for programs in 2018-19. New equipment was purchased to start a Mechatronics program and an AMP UP! class which combines Algebra I and Woodworking. (Alpena is working toward combining more core credits into the CTE programs.) Funds were also used to update equipment in other CTE programs.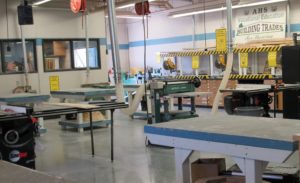 APS owns the property where the Construction Trades program is currently building a subdivision, one three-bedroom house at a time. The property on Wildcat Court consists of 12 one to one-and-a-half acre parcels. Five homes have been completed and students have begun a sixth. Each home takes 12-18 class months to complete. The district sells the homes, four so far, to pay for supplies for the next build. The Construction Technology program has built over 30 homes in Alpena since the program began many years ago. The Geometry & Construction course offers students geometry credit and constructions trade elective credit. Both teachers work with the students in a two-hour block format. Enrollment for this class doubled from 2016-17 to 2017-18.
A math teacher and a woodworking teacher work together in the Amped Up! course. This course is part of the new Mechatronics program and students receive both Algebra I and woodworking credits. Remodeling was done to open up two high school classrooms into one large workspace for this program.
The demand for welders in the U.S. continues to grow. To attract more girls to the welding program and encourage more participation in Early College, the district purchased three virtual welders. "This gives students an opportunity to practice their welds before going on the real floor." Ms. McCoy explained. The software has three evaluation levels and students can attempt them multiple times. After a student completes a weld, they receive a score which is broken down into the different components needed for a perfect bond so they know what they still need to learn or practice. Students can earn an American Welding Society (AWS) Level 1 certification while at APS which can get them into an entry level welding job. Some students attend Alpena Community College after graduation for more advanced certifications.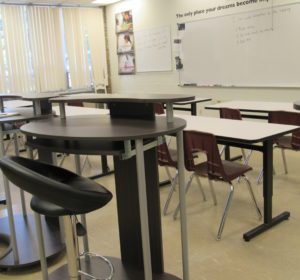 Additional CTE programs have received a facelift since Joyce has taken over as director. The woodworking room received a new air filtration system, numerous outlets, and equipment. The welding work floor was painted and updated to look more industry-like, and the automotive classroom was painted and decorated this summer. Collaborative workspaces, new carpet and furniture, and updated Microsoft Office software were purchased for the CTE business program. Health Occupations received new classroom furniture so students can choose to work at a standing or sitting desk.
Alpena prepares their students for careers in these fields by keeping CTE programs relevant and current. Adding new programs such as the Mechatronics program and updating programs like the welding program provides students the opportunity to be trained in careers with high skills and high demand. With this training, students will be prepared to enter the workforce or go on to college for further certifications or degrees.
Community Support
Personalized learning needs more than a public school to be successful. The community surrounding Alpena Public Schools is instrumental to their success. Most of Alpena's residents work in retail, healthcare, manufacturing, construction, and hospitality/food service. In addition to large manufacturing companies such as Besser Company and Lafarge, many of Alpena's local businesses and nonprofits partner with the district through field trips, guest speakers, internships, mentorship, and learning spaces.
ACES Academy focuses on individual success for all students. In this flexible program, each student creates a unique plan with their mentor to map out their path to graduation. Their path could include work-based learning, dual enrollment, CTE courses, and volunteering. Students spend one day a week on their credit based/career-focused learning option in the community. One example of a unique learning experience is APS' partnership with the Alpena Senior Citizens Center. As students learn in this project-based environment, they can also earn a ServSafe certificate. Seniors at the center often build relationships with the students and assist in mentoring them.
Alpena is home to the Thunder Bay National Marine Sanctuary which preserves a multitude of shipwrecks covering 4,300 square miles. The Sanctuary partners with teachers in the district for a variety of learning opportunities from field trips to specialized programs. John Caplis, high school science teacher, has partnered with the Sanctuary for his "Shipwreck Alley" course in the past. In 2018-19, John is teaching "Science in the Sanctuary" in the 9th-grade PBL pilot program. Students will scuba dive from the Lady Michigan, a 66' boat owned by the Sanctuary, as they learn about the science in the bay. The Sanctuary also offers a MakerSpace in the Community Boat Building structure. Students build PVC remotely operated vehicles (ROV) and test them in the water tank. Based on how their ROV performs, they can make adjustments and test again. The high school ROV Team has used the large outdoor tank to test their ROVs before competitions. The team placed first in the Great Lakes Regional Competition for Marine Advanced Technology Education (MATE) competition in 2018 and will be competing in Seattle, WA in The Applied Physics Laboratory (APL).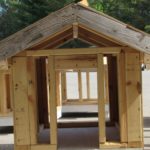 The CTE programs also receive support from the community. Realtors who sell the construction trades homes in Wildcat Court give back their commission to the school to further fund the program. Mini-sheds, deer blinds, and dog houses built by the Intro to Construction and Construction Technology classes are purchased by community members. Friends, family, and staff trust the automotive students to repair their vehicles. Local medical facilities open their doors to health occupation students to complete their clinicals. Residents participate in the public can drive and shop at Campus Closet, the marketing program's school store, and purchase hydroponic plants at the Agriscience & Natural Resource program's Spring Plant Sale. Every CTE program has an advisory committee with membership from community professionals.
Alpena Community College (ACC) partners with APS for the CTE Early/Middle College program and CTE Dual Enrollment program. ACC offers multiple pathways for students to earn college credit up to an associate's degree. Students learn skills to prepare them for careers and college through attending classes on the ACC campus. APS' Early/Middle College had 52 students enrolled in their 2017-18 cohort. Through this partnership, Alpena Public Schools receives funding for their students, Alpena Community College admits high school graduates that are college ready, and the Alpena community gains more residents with higher degrees and credentials.
Every individual is on a life-long learning journey from birth to death. Our journeys before or after our formal years of education differ. So why should students be subjected to a carbon-copy education for 13 years? Alpena Public Schools, along with other forward-thinking districts in the country, views education as a personal journey for each and every student. Creating a variety of learning options for students is necessary to support them on their own journey and Alpena Public Schools is doing just that.
About APS
Located along Lake Huron on the northeast side of lower Michigan, Alpena Public Schools is the largest district, geographically, in lower Michigan and the second largest in the state. At over 600 square miles, APS busses travel the distance equivalent to Disney World and back every day. K-12 enrollment is about 3,900 students in the six elementary schools, one junior high school, one high school, and an alternative program. About 50% of the student population is eligible for Free and Reduced Lunch as defined by the state.
Author: Lisa Sitkins, Consultant for EdTech Specialists, October 2018